BR-400AN Quick Start Guide
Relevant Documentation:
STEP 1:
Download and install AMC Manager. With this utility you will be easily be able to setup all the BR-400AN Mesh bridges from your computer. Please make sure that the laptop with the AMC manager software is connected to your network. If you have no Silex devices in your network, the utility will not detect and devices and the list will be empty.
Note: AMC Manager can be freely used for up to 10 devices. If you have 10 or more devices in your network, then you will need to request licenses for the software from Silex by contacting sales@silexamerica.com.
STEP 2:
Power up and install a BR-400AN Mesh bridge. Preferably this is located close to your home router/modem. Connect the BR-400AN to your network by connecting your router/modem to the BR-400AN with the Ethernet network cable included in the package.
Note: There is one Ethernet port available on the BR-400AN. What can it be used for?
Connecting the BR-400AN to your network by connecting the bridge directly into a router/modem to provide it network connectivity.
Can be used as a Mesh bridge to provide Ethernet to WLAN connectivity to your mesh network. For example, you can directly connect it to your network printer to share it with other devices in your mesh network.
STEP 3:
Now that you have a BR-400AN bridge on the the network, you can install other BR-400AN's as nodes through out your facility. It is just a matter of plugging the BR-400AN in a power socket. These will automatically form a connected network with the neighboring BR-400AN's.
When BR-400AN is started, the LED turns on or blinks as shown at (1) below. When the Mesh network is configured, the LED turns on or blinks as shown at (2).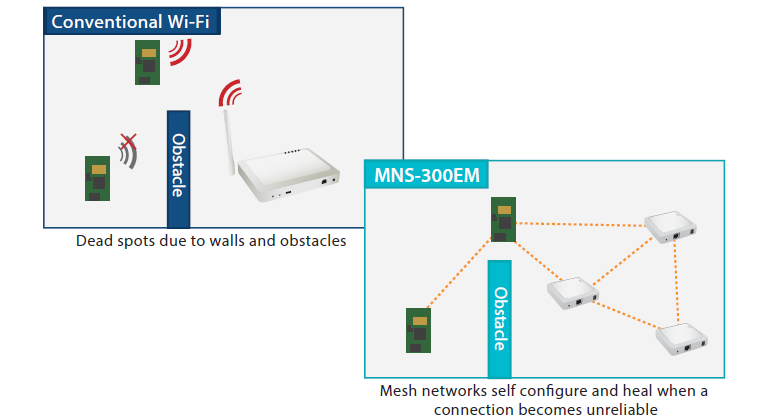 The color of the "Status" LED will differ depending on the link quality. You may want to move the location of your BR-400AN to a closer location if the "status" LED is blinking orange or red. Moving it closer to a neighboring BR-400AN will improve the link quality and turn the LED to a blinking green.
Green:

Connected to the Mesh device. The link quality is good and communication with the Mesh device is stable.

Orange:

Connected to the Mesh device. The link quality is OK and it is possible to connect to the Mesh device.

Red:

Connected to the Mesh device. The link quality is poor and the network environment needs to be improved.
STEP 4:
Once all the BR-400AN's are powered up (3 in this example), all the units should appear as network devices in your AMC manager.
Note: If you do not see the device in the AMC Manager, please look at the status LED of the missing device. If it is red, then it means the link quality is not good. Either move the device closer to a near by BR-400AN or insert another BR-400AN as an MP near by to create a stronger mesh network.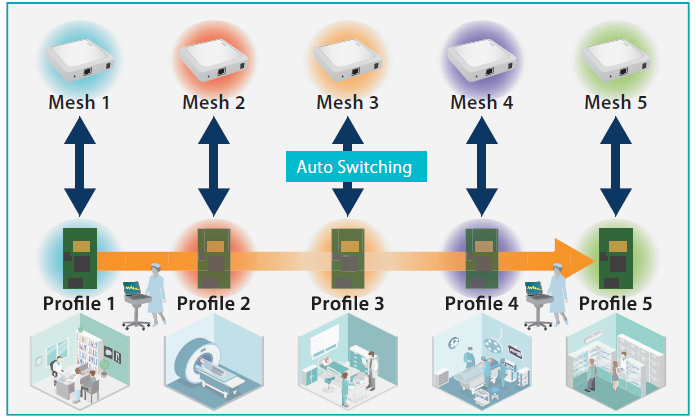 STEP 5:
There are two modes that the BR-400AN can operate in MP and MAP modes as described below.
Mesh Point (MP) Mode: BR-400AN can be configured as Mesh Points (MP) which enables multiple BR-400AN's connected together with each other to create a peer to peer mesh network. In this use case, the device can either act as a node in your mesh network to expand the coverage, or it can also be used simultaneously as a bridge to connect your wired printer to your mesh network. If it is being used as a bridge, you can connect up to 8 LAN devices (using a hub) to your mesh network.
Mesh Access Point (MAP) Mode: BR-400AN can also be used as an access point in your mesh network. By configuring the "Mesh Access Point" mode, it enables client devices e.g tablets, to find and connect to the BR-400AN configured as an AP. This enables users to upgrade or setup their office/home network infrastructure to use mesh technology for a more robust and reliable network.
Note: By default all devices are in MP mode. If you wish to connect client devices to the network then please configure at least one of the nodes as an MAP. To learn about other features and configurations please read the BR-400AN User Manual.
If you wish to change the default configuration to MAP mode please right click on the device in the AMC manager and click "Configure using web browser".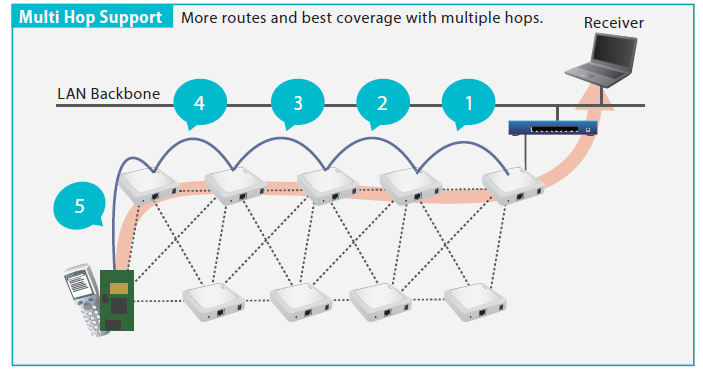 Enter the password "root" to login to the BR-400AN via the web browser.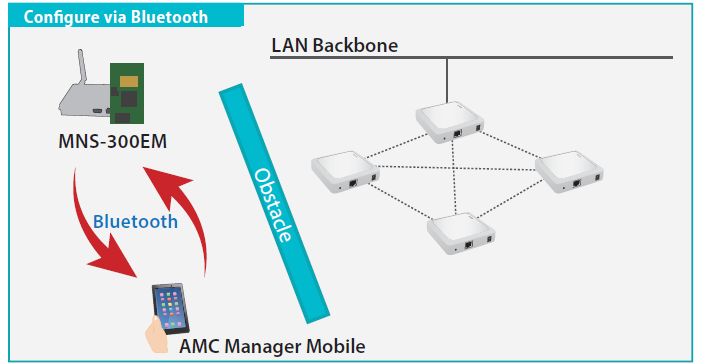 Under "Access Point Function Configuration" please enable the access point function as shown below.

You can set the AP configurations for your network. An example of the configuration is shown below.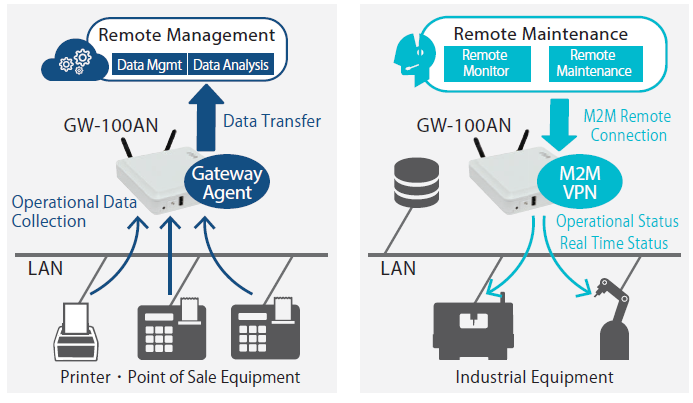 STEP 6:
Once the configurations are submitted, it will prompt you to restart the device to save the settings. You have now configured your Mesh network with three BR-400AN's. One of them is acting as an AP.
---
Want to use Mesh Monitor? (Optional)
This is not required, but this optional Mesh monitor makes it easy to visualize your mesh network map and helps with basic mesh configurations. Mesh Monitor is AMC Manager® plug-in option to visualize mesh network composed of BR-400AN . This application aids the user with setup and operation management. User can map BR - 400AN and check communication path, connection link status between terminals, radio field strength at a glance.
Note: To use this tool, a licensed AMC manager utility is required. Please contact sales@silexmerica.com to request a license.