1. Two Operation Modes:
MNS-300EM can operate in two modes. It can automatically toggle between the two modes depending on its wireless environment.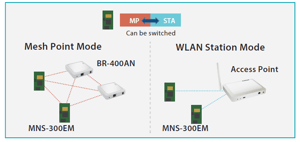 Mesh Point Mode (MP):
As a mesh point, MNS-300EM can provide mesh back-haul /network connectivity. It is compatible with our BR-400AN. Mesh points are aware of potential neighbors and can form new mesh links if the current mesh link is no longer available.
WLAN Station Mode (STA):
MNS-300EM in STA mode, can connect to a traditional access point as a wireless client and join the wireless network.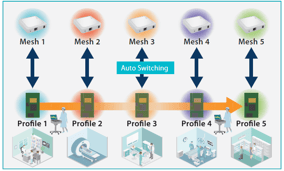 2. Automatic Profile Switching
MNS-300EM can save up to five mesh network profiles that it wants to automatically toggle between. As your device moves between different mesh networks, it automatically configures itself to the network profile with the best signal strength.
3. Multiple Hop Support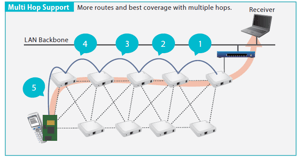 The amount of hops represents the number of devices connected to relay data and provide multiple paths of communication in your mesh network. We recommend mesh networks to comprise of no more than 32 nodes (MNS-300EM's & BR-400AN's). Our optimized implementation allows multiple hops (5 recommended) without degradation in performance.
4. Add Wi-Fi to your Serial and Wired LAN Device
By embedding the MNS-300EM into your device, you can easily connect your serial (RS232C) or Ethernet device to your traditional Wi-Fi or Mesh network.
5. Configuration via Bluetooth
AMC Manager Mobile application allows users to configure your mesh device remotely using your tablet or cell phones via Bluetooth. This allows accessibility to the devices in remote and hard to reach areas.