Intelligent FIPS Wi-Fi embedded module with RS-232 and Ethernet interfaces
The SX-590-1402 is a FIPS 140-2 cryptographic module. It adds Wi-Fi interface to products aiming for US governmental facilities and agencies.
Wireless communication compliant with FIPS 140-2 requirements
In FIPS 140-2 mode, Wi-Fi connection is established only through FIPS 140-2 certified WLAN authentication and WLAN data encryption with WPA2-PSK (AES).
In addition, the end-to-end application security is established by TLS encryption. Firmware are securely stored in the device and secure boot protects the device from booting up with unauthorized firmware image.
Low power Wi-Fi embedded module
SX-590-1402 uses a low power CPU, i.MX 6ULL, which reduces the over all system power consumption. It also supports additional power management features which help reduce power usage during periods of inactivity.
Various connectivity models
The SX-590-1402 support various network connectivity models.
Serial connection over Wireless/Wired LAN
Wi-Fi infrastructure mode

An embedded serial port can be accessed through Wi-Fi access point.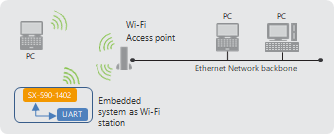 Wi-Fi Access Point mode
The SX-590-1402 adds accessibility to an embedded serial port as an access point.

Wired LAN mode
The SX-590-1402 supports 10Base-T / 100Base-T interface to access to an embedded serial port.

eCable mode
Embedded serial devices communicate with each other through SX-590-1402's network interface.

Wi-Fi adapter utilizing existing Ethernet port
An Ethernet port on a SoC (System-on-Chip) can be converted to Wi-Fi interface by SX-590-1402 Ethernet to Wi-Fi bridge feature.