Wireless and Secure - MobileLink wireless ECG communication
MobileLink™ is a wireless, integrated ECG communication solution that helps you capture, transmit and analyze your patients' ECG information with greater speed, efficiency and confidence, thanks to enhanced security protocols. MobileLink is offered as an option to help your staff save steps, reduce errors, expedite report generation and improve charge capture, for better care decisions in less time. By combining all available security protocols into one fortified superset, MobileLink
can help protect your facility from the risk of transmission interception.
Enhanced efficiencies
MobileLink facilitates wireless communication between the MAC® 5500/5000 ECG analysis system and the MUSE® ECG Management System, as well as your Hospital Information System (HIS). This seamless integration of patient information helps clinicians improve their workflow and increase efficiencies.
Error reduction – Data transfers directly from the HIS, through MUSE, to a MAC ECG analysis system – so there's no manual entry of demographic data and less chance of errors.
Charge capture – MobileLink sends the information to MUSE, which directly sends the test record to HIS for billing. No delays. No missed charges. No loss of revenue.
Simplified workflow – Orders are directly downloaded to the Electrocardiograph. After the exam, the ECG data is automatically uploaded to the MUSE, which avoids unnecessary trips to the care unit/heart station and helps increase productivity.
Improved patient care – Previously stored data can be quickly accessed from MUSE, allowing clinicians to perform serial comparisons for more comprehensive studies.
Investment protection – When adding MobileLink to an existing MAC 5500/5000 and current MUSE system, the common interface avoids expensive retraining. MobileLink also adapts easily to changes in your facility's security protocols.
Environmentally friendly – The eco-friendly MobileLink is now RoHS compliant.
Service at every step – An experienced team, devoted solely to network design, can assess your current network and review your wireless security measures to help ensure the best results.
Simplified workflow
With MobileLink : Reduces manual tasks by 66%, compared to traditional workflows. MobileLink can simplify ECG workflow by helping to prevent mistakes and reduce costs through,

Seamless integration with the Hospital Information System (HIS) – for consistent charge capture
Rapid and efficient transfer of ECG and demographic information
Elimination of patient data re-entry
Accessibility of ECGs for review and reporting virtually anytime, anywhere
With MobileLink : A traditional ECG workflow is time consuming, and often results in delays, mistakes, misplaced records, unnecessary costs and lost revenues due to,
Paper-based orders and reports

Repetitive manual data entry

Frequent trips between the patient's bedside and care unit

Lack of physical equipment connections
Wireless connectivity between each MAC 5500/5000 and MUSE system places approximately 0.5kb per second or less of traffic on the hospital wired network during data transfer. Accounting for network protocol overhead, a typical 10kb resting ECG record requires approximately 15-20 seconds to transmit from the MAC 5500/5000 to the MUSE system with MobileLink.
Security
The MobileLink wireless module includes the following security features:
802.1x Extensible Authentication Protocol (EAP) with Transport Layer Security (TLS)
Tunneled Transport Layer Security (TTLS)
Lightweight Extensible Authentication Protocol (LEAP)
Protected Extensible Authentication Protocol (PEAP) or Flexible Authentication via Secure Tunneling (FAST)
Open System or Shared Key support with Wired Equivalent Privacy (WEP) encoding
WPA (Wi-Fi Protected Access) Personal (WPA-PSK) and Enterprise modes, which utilize improved encryption via the Temporal Key Integrity Protocol (TKIP)
WPA2, which adds Advanced Encryption Standard (AES)
Coexistence
Based on IEEE 802.11b/g standards, the MobileLink option utilizes the Instrument, Scientific, and Medical (ISM) frequency band, operating between 2.400 and 2.485 GHz. This frequency band also supports non-IEEE 802.11b/g wireless standards that are commonly used by medical instrumentation and wireless PDAs. Compatibility issues can arise when multiple wireless devices share the same frequency band. Coexistence issues, such as partial or complete degradation of bandwidth or transfer rates, can occur. Determination of coexistence issues will require pre-sales consultation by the GE Healthcare ITPS Network Design and Implementation Team.
System requirements
MobileLink
MUSE system at software version 5C.10 or 5D.04 and above, 5E.x, or 7.x, with MobileLink wireless option installed
IEEE 802.11b/g "Wi-Fi" compliant wireless network
A static IP address for each MAC 5500/5000 module
Compatible with GE Enterprise Access
MobileLink CV Messaging
MUSE system at software version 5C.10, 5D.04 and above, 5E.x, or 7.x, with MobileLink CV Messaging option installed
SMTP e-mail server
E-mail account service must understand MIME or UUENCODED attachments
For wireless access through PDA
GSM wireless network or WiFi for in-hospital
Pocket PC with e-mail account service
Pocket PC with PDA version of Adobe® Acrobat® Reader®
Network requirements
Pre-quote or post-sales consultation to determine network design and assessment of possible coexistence issues
All access points installed and tested by customer prior to the network assessment for all necessary areas of coverage
Hospital IS assistance to provide any necessary security information during the installation. The area of wireless coverage is determined by the spacing and number of access points attached to the network, provided the MUSE has the ability to route to every segment of wireless network in which there will be a MAC 5500/5000 cart. The client bridge can be configured with the IP address of a gateway if the MAC 5500/5000 module is not on the same network as the MUSE system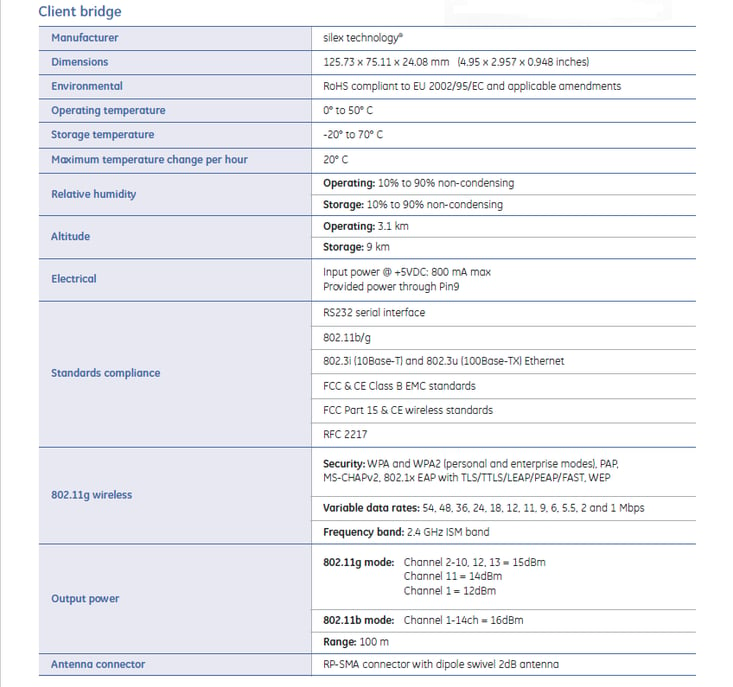 About GE Healthcare
GE is dedicated to helping you transform healthcare delivery by driving critical breakthroughs in biology and technology. Our expertise in medical imaging and information technologies, medical diagnostics, patient monitoring systems, drug discovery, and biopharmaceutical manufacturing technologies is enabling healthcare professionals around the world to discover new ways to predict, diagnose and treat disease earlier. We call this model of care "Early Health." The goal: to help clinicians detect disease earlier, access more information and intervene earlier with more targeted treatments, so they can help their patients live their lives to the fullest. Re-think, Re-discover, Re-invent, Re-imagine.
For more information on Silex custom Wi-Fi modules, contact us.
Download the PDF of this case study.