The Challenge
AMX required a wireless solution in an SD card form factor that could support 802.11a/b/g and Cisco CCX while meeting an aggressive schedule.
The Solution
The SX-SDCAG SDIO card module with engineering support to trouble-shoot problems faced when multiple vendors are integrated.
The Result
Secure and reliable Wi-Fi solution with upgrade path providing AMX touch panel customers with always-on connectivity.
"Silex has provided the best support I have seen from a third-party supplier that I have dealt with in all my years at AMX."
Rick Gelling,
Director of Firmware Engineering
AMX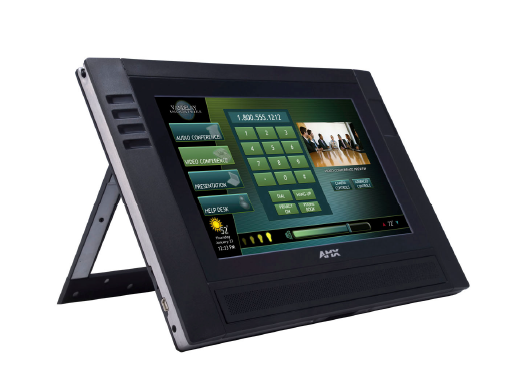 AMX product requirements for wireless exceed just about any commercial product in the world as AMX customers and their installations are generally varied while being extremely critical to their customer's day-to-day operations. AMX required a wireless solution that could support 802.11a/b/g and Cisco CCX (Cisco Compatible Extensions). In addition, the solution needed to be designed in a specific form factor and delivered within a certain timeframe. Ultimately, AMX chose Silex for their development expertise and engineering experience to provide the wireless hardware technology and to port their radio driver to the MVP-9000i Modero® ViewPoint® Touch Panel.
AMX not only found Silex to be knowledgeable about integrating Wi-Fi to their Touch Panel product line, but they learned how committed Silex was with helping them resolve development issues beyond the scope of their initial engagement to incorporate multiple vendors' products to successfully implement wireless functionality. Like most product development efforts, the AMX project presented its own integration challenges. This however did not deter the Silex engineering team from helping to troubleshoot various issues and resolve problems, even if it was not clearly a Silex product issue. "Silex worked with us every step of the way to resolve problems. In fact, I can honestly say, Silex has provided the best support I have seen from a third-party supplier that I have dealt with in all my years at AMX," shared Rick Gelling, director of firmware engineering at AMX. "We were extremely pleased to be an integral part of the MVP-9000i Touch Panel," said Keith Sugawara, vice president, business development of Silex Technology America.
"While our preferred business model is to provide a complete one-vendor solution, our ultimate objective is to satisfy our customers and deliver on the promise, 'When it absolutely
must connect!'" AMX integrated Silex's SX-SDCAG 802.11a/b/g radio/baseband SDIO card designed specifically for OEM embedded applications. It features an ultra-compact
highly-integrated system for 802.11a/b/g WLAN environments with very low-power consumption for applications such as battery-operated devices. Customers using the SX-SDCAG can easily migrate to a next-generation 802.11n solution from Silex.
About AMX
AMX hardware and software solutions simplify the implementation, maintenance, and use of technology to create effective environments. With the increasing number of technologies and operating platforms at work and home, AMX solves the complexity of managing this technology with reliable, consistent and scalable systems. Our award-winning products span control and automation, system-wide switching and audio/video signal distribution, digital signage and technology management. They are implemented worldwide in conference rooms, homes, classrooms, network operation / command centers, hotels, entertainment venues, broadcast facilities, among others. AMX was founded in 1982 and is a member of the Duchossois Group of Companies. For more information, visit www.amx.com
For more information on Silex custom Wi-Fi modules, contact us.
Download the PDF of this case study.