Low Power Consumption
The BR-330AC-LP is the enterprise Ethernet to Wi-Fi bridge operating with the lowest power consumption in the industry. The BR-330AC-LP consumes less than 2.5W (RMS: Root Mean Square) while transmitting the radio signal. The low power operation will allow longer operation time with a large capacity power bank when the Wi-Fi bridge is used with a mobility device.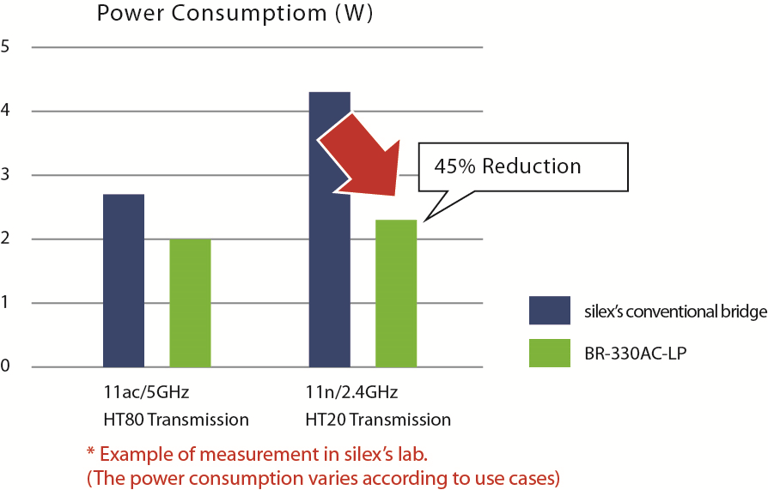 802.1X Enterprise Security
The BR-330AC-LP supports 802.1x authentication to join the enterprise network through the Wi-Fi network.
The BR-330AC-LP is the ideal solution for successful IT/OT convergence with traditional non-802.1X capable Ethernet devices. Combining with 802.1X authentication over the Wi-Fi by the BR-330AC-LP and its MAC address filtering function for the connected Ethernet device, only authorized Ethernet devices in OT domain can converge into the IT network. Instead of replacing legacy Ethernet device to achieve IT/OT convergence, retrofit the Ethernet devices with the BR-330AC-LP.
MAC Address Filtering
The BR-330AC-LP supports MAC address filtering. You can protect your network from physical tampering by making sure that only known devices can join your Wi-Fi network through the BR-330AC-LP. When you enable MAC address filtering, only devices you've enabled can be paired with the bridge and the network.
Connect single or multiple Ethernet devices to secure Wi-Fi network
The BR-330AC-LP supports two connection topologies, a single client mode, and a multi-client mode. The BR-330AC-LP seamlessly bridges an Ethernet device to 802.11ac wireless network in the single client mode. It can also bridge up to 16 Ethernet devices connected through a network hub to the wireless network.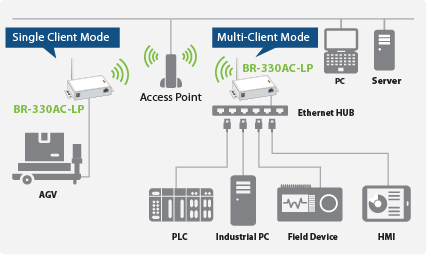 Fast-Roaming for mobility
The BR-330AC-LP supports fast-roaming to add not only wireless connectivity but also mobility to an Ethernet device. The BR-330AC-LP is the perfect solution for a medical cart and mobile workstation.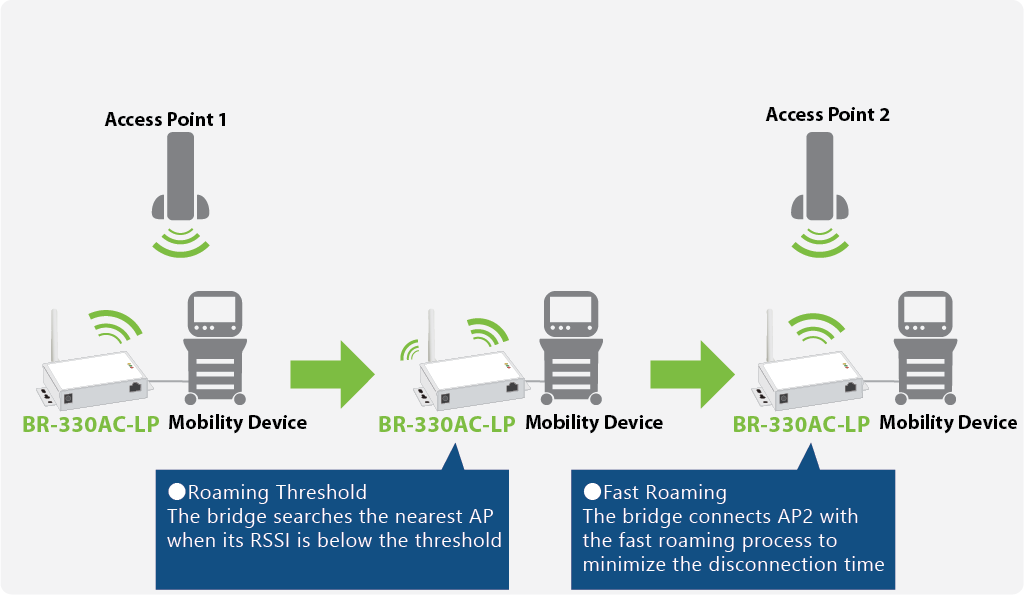 Easy Configuration for Quick Installation
The configuration of the the BR-330AC-LP is easy and quick through its integrated configuration web page, initial kitting utility tool, or AMC Manager®. Even when you need a bunch of device configurations to install a number of the the BR-330AC-LP with a particular need, Silex will work with you to satisfy your unique requirement.