Wi-Fi HaLow
Secure, scalable, high-throughput sub-GHz Wi-Fi for Industrial IoT.
What is Wi-Fi HaLow?
Since its introduction in 2017, Wi-Fi HaLow, also known as 802.11ah, complements traditional Wi-Fi to expand WLAN network with its ultra-low power long range, and secure Wi-Fi connection to support long-range application and large-scale IoT network.
Wi-Fi HaLow Solutions

SX-SDMAH
Wi-Fi HaLow SDIO Radio Module
High-performance and long range sub-GHz Wi-Fi
SDIO host interface for Linux embedded system
SPI host interface for FreeRTOS embedded system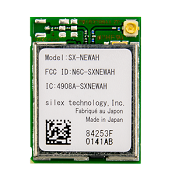 SX-NEWAH
Wi-Fi HaLow Hostless Module
Long range wireless for hostless IoT devices
FreeRTOS SDK for user application integration
SPI host interface for Linux embedded system

AP-100AH
Wi-Fi HaLow Access Point
Long-range high data throughput
Large-scale IP-based IoT WLAN
Easy Wi-Fi HaLow installation

BR-100AH
Wi-Fi HaLow Enterprise Ethernet Bridge
Ethernet device range extension by Wi-Fi HaLow
Over Mbps data throughput over long distance
WPA3-Enterprise security for enterprise IT
Partners
Silex is part of the 802.11ah HaLow Ecosystem. We collaborate with industrial partners to make solutions accessible for anyone.
Newracom
Newracom is our Wi-Fi HaLow partner providing SoC solution. As an optimized Wi-Fi solution for the internet of things (IoT) devices, NRC7292 is the industry's first system on a chip (SoC) that is compliant with the IEEE 802.11ah standard.
Gateworks
Gateworks designs and manufacturers rugged and industrial single-board computers for rugged and industrial embedded applications.
The GW16146 is an 802.11ah HaLow Mini-PCIe card designed to provide long range wireless to IoT applications.
Morse Micro
Morse Micro provides a complete Wi-Fi HaLow connectivity solution. The MM6108 SoC is a single-chip that enables long-range Wi-Fi connectivity, supporting data rates up to 32.5 Mbps. It allows us to offer a comprehensive product lineup to give customers more integration options.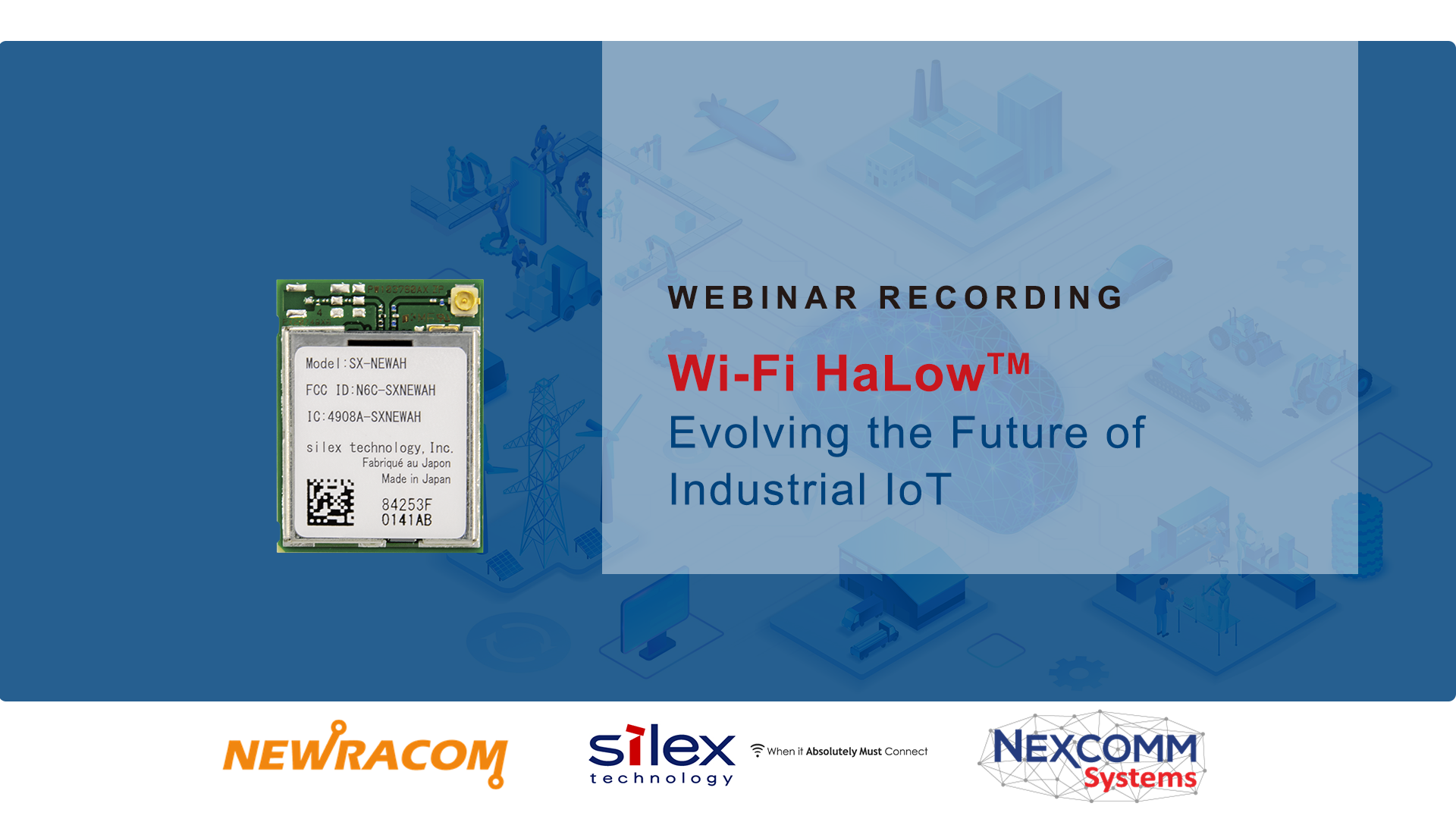 How 802.11ah (Wi-Fi HaLow) is Revolutionizing IoT Connectivity
Learn 802.11ah (Wi-Fi HaLow) benefits and use cases from technical experts at Newracom, Nexcomm Systems, and Silex.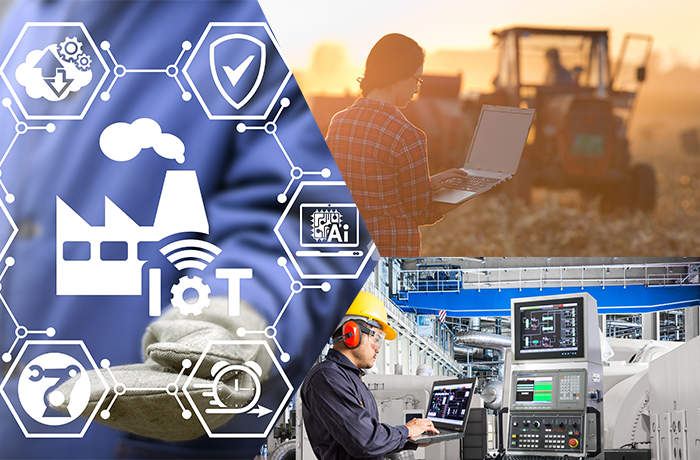 Using Wi-Fi HaLow Technology to Develop Reliable Industrial IoT Connectivity Solutions
How Nexcomm Systems added the SX-NEWAH 802.11ah module in their cellular gateways and sensor hub devices for industrial and outdoor applications.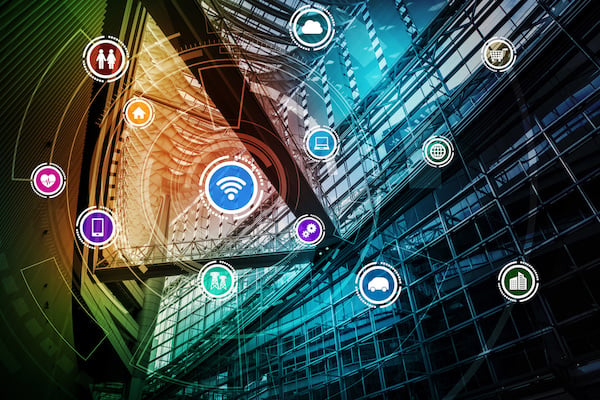 802.11ah for Indoor Applications
This paper explores how 802.11ah Wi-Fi meets important indoor setting requirements and shows a significant difference with 2.4GHz coverage.
Frequently Asked Questions
In which countries can the SX-NEWAH be used?
The SX-NEWAH(US) obtained the modular certificate for US and Canada. The antenna gain must be 3.4dB or less to apply the certification for your product.
Silex is aiming to make the Wi-Fi HaLow module available in EU and Japan. We will communicate the availability in these regions as the regulatory settlement progresses.
Silex provides the certification service for usage with different antennas or different regions.
How far can a Wi-Fi HaLow radio reach?
We've seen mega-bit-per-second data throughput over a mile at 23dBm transmission power in a relatively clean environment.
The distance will depend on the height of the device placement, radio interference from other devices operating in sub-GHz band (LoRaWAN, RFID, etc.), transmission power, and other factors. Silex will work with customers to assess the viability of Wi-Fi HaLow for specific use cases.
Read more:
How far can 802.11ah can go before the connection is 'Dead'?
What data throughput can I expect with my embedded system enabled by the SX-NEWAH?
We observe over 8Mbps TCP data throughput with our evaluation Linux driver running on the Raspberry Pi when operating in 4MHz channel bandwidth. With 2MHz channel bandwidth, it will be around 4Mbps. With 1MHz channel bandwidth, it will be 2Mbps TCP throughput.
The throughput will also depend on the CPU's performance in your embedded system. With the i.MX6 ULL operating at a little over 500MHz, the TCP throughput is bounded at around 5Mbps when operating in 4MHz channel bandwidth. With 1MHz/2MHz channel bandwidth, we don't observe much difference between i.MX6 ULL and Raspberry Pi platform.
Outside of the United States, some regions define the duty cycle for radio transmission. The data throughput will be the function of the duty cycle when it applies.
The outdoor performance check with silex EVK is available in the blog.
How far can 802.11ah can go before the connection is 'Dead'?
What do I need to integrate Wi-Fi HaLow network into my existing network infrastructure?
A Wi-Fi HaLow access point is required to associate Wi-Fi HaLow stations. Since Wi-Fi HaLow operates in sub-GHz frequency band, Wi-Fi HaLow stations cannot be connected to legacy Wi-Fi access point or router operating in 2.4G/5GHz band.
Silex offers the AP-100AH that can be easily plugged into an Ethernet switch or router so that the Wi-Fi HaLow wireless LAN can be integrated into your network.
Read more:
How many Wi-Fi HaLow stations can be connected to a single access point using the SX-NEWAH?
1,000 stations.
What operating system does the SX-NEWAH support?
The product will include a Linux based driver supporting kernel version v4.14 or FreeRTOS based driver. If any of these do not meet your needs, Silex also specializes in porting drivers to various operating systems and OS versions. Please reach out to us for information on how we can help meet your needs based on your specific OS requirement.
SX-NEWAH Evaluation Kit for Raspberry Pi Platform
What evaluation platforms are available for SX-NEWAH?
How can I get the evaluation image?
SX-NEWAH-EVK comes with a SD card with pre-loaded Linux evaluation image.
If you have only SX-NEWAH evaluation board and need the evaluation Linux image for Raspberry Pi, please request it from this page selecting "SX-NEWAH Evaluation Linux Driver Image".
If you need the FreeRTOS evaluation driver image, please request it from this page selecting "SX-NEWAH Evaluation FreeeRTOS Driver Image".
Silex support team is going to send the download instruction no later than 7 days after the request. Please allow us to take a couple of days to review the request.
Is a SX-NEWAH in mini-PCIe card form-factor available?
Yes, it is available from Gateworks.
Does Silex's Wi-Fi HaLow solution support the power saving modes?
We will support the power saving mode with our upcoming driver/firmware update for SX-NEWAH and AP-100AH.
Can the SX-NEWAH be driven from a USB host interface of my host controller?
Which antennas are recommended?
| | | | |
| --- | --- | --- | --- |
| Vendor | Model No. | Antenna Type | Antenna Gain [dBi] |
| STAF | T16-062-1022 | PCB | 3.0 |
| ethertronics | X9000984-4GDSMB | ROD | 3.4 |
| PSA (Walsin) | RFDPA131000SMRB801 | ROD | 3.01 |
| Invax | AN0915-13D01BSM | ROD | 2.00 |
| SaemON Technology | SME–G0900DEN | ROD | 1.26 |
Can two BR-100AH be connected directly?
The BR-100AH can be connected to the Wi-Fi HaLow access point such as the AP-100AH. The BR-100AH cannot connect to another BR-100AH directly.
Can the AP-100AH and the BR-100AH be interchangeable?
In general, the AP-100AH cannot be converted to the BR-100AH and vise-versa.
Wireless expertise
Our Wi-Fi and Bluetooth expertise honed over 20 years and exclusive access to Qualcomm technology helps you develop the most reliable solutions.
Unrivaled quality
We create wireless modules that conform to IEEE standards while maximizing peak performance levels within the legally allowed regulatory guidelines.
Dedicated support
We're there at every step in the design and development process, with access to local engineering resources for pre-sales consultation, integration, and post-sales support.
Need help to get started and begin evaluation?