Preloaded and scheduled contents playback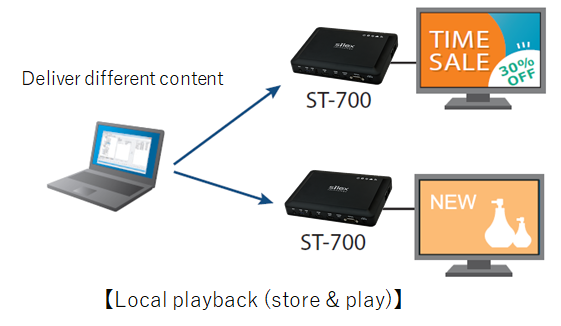 Content stored in the ST-700's internal storage (20 Gbyte) is automatically played back as scheduled. You can distribute your contents to each ST-700 installed in your network with free contents management software "SX Sign Control Software."
Split Screen Content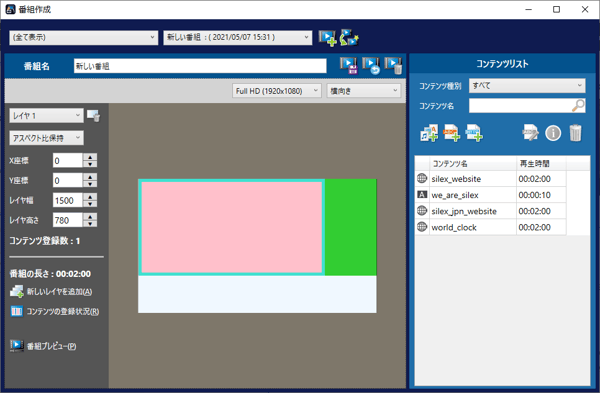 The ST-700 supports up to 8 layers to split your screens for different contents such as a video, images, HTML5 contents, and scrolling text on each layer.
Note:
up to 1080p for split-screen contents
minimum HTML content duration is 2 minutes and up to two simultaneous HTML contents
Only one video content in the split-screen contents
Multi-Display Digital Signage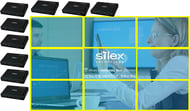 Multiple ST-700s enable multi-screen digital signage. Up to 9 ST-700s synchronize each other to playback your content among multiple displays.
HTML5 with Touch Control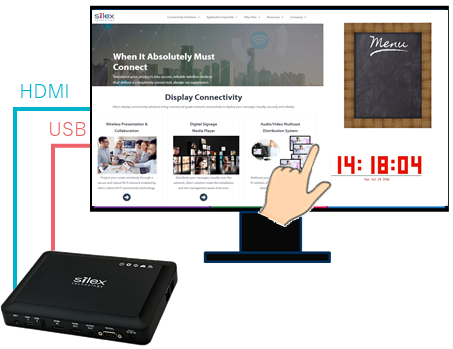 The ST-700 features a web browser to support HTML5 contents. The ST-700 converts the touch panel to a touch control digital signage by connecting them via USB.
HDMI Passthrough

The ST-700 supports HDMI passthrough when you'd like to switch between content from an external source and locally stored contents.
Contents Management Software - SX Sign Control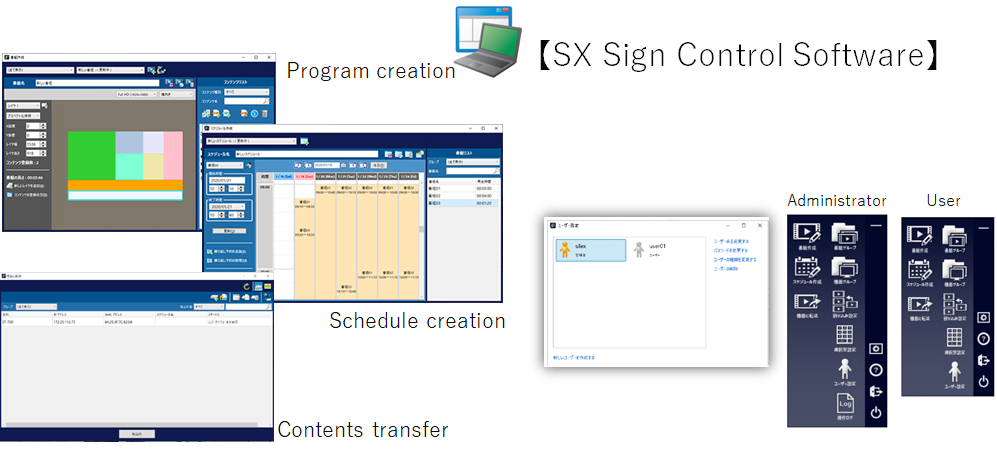 Contents creation and group management
ST-700 device and group management
Scheduling
Contents distribution over your network
Mapping between user input and a content
Preview
Item
Description
OS

Windows 8.1

Windows 10 (Recommendation)

Language
English
Mandatory setup

Microsoft .NET Framework 4.6 and later

Windows Media Player

Supported Web browser

Microsoft Edge (Chromium version): 87.0.664.75 and later

Microsoft Edge: 44.19041.1.0 and later

Google Chrome: 87.0.4280.141 and later

Mozilla Firefox: 84.0.2 and later

Supported resolution
1024 x 768 and larger
Supported Device
ST-700
Note:
- operation as a desktop application
- No Windows RT support
- No Internet Explorer support
- Windows Media Player is mandatory to preview the contents
- Video extension function is mandatory to preview or split the screen of H.265 contents
- Codec pack is required to preview VP8, VP9 or Theora format contents