Posted by Safi Khan, August 4, 2017
Add Ultra Low Power WiFi Using UART AT Command Set
Silex has released a new version (12.2.x) of our UART AT Command Set for Qualcomm's Ultra Low Power WiFi IoT Soc QCA4010. Our new product is called SX-ULPGN-EVK-AT. The SX-ULPGN-EVK-AT is an evaluation kit for our SX-ULPGN module based on the QCA4010.
Using our new SX-ULPGN-EVK-AT, customers can quickly evaluate our AT Command Set. They can add a serial-to-Wi-Fi converter for their existing MCU based designs without porting any host driver. SX-ULPGN can offload the host MCU by performing all of the Wi-Fi related tasks such as low power WiFi network stack, security, and authentication.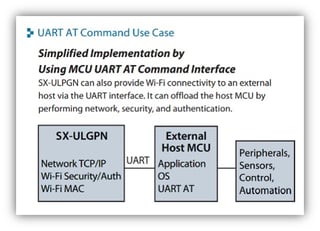 Top Features:
| | | |
| --- | --- | --- |
| JTAG | OTA Programming | Station and AP Modes |
| Open System WPA-PSK, WPA2-PSK | None, WEP, TKIP, and AES(CCMP) | Enrollee (PIN/PBC) |
| IPv4, IPv6, DNS, SNTP, HTTP | SSL/TLS, DHCP, and WPS | IEEE802.11 Power Save Mode |
| Suspend (Store Recall, Power Off | Suspend(Sleep Wakeup, Host Deep Sleep) | TCP/IP Offload |
| UDP Offload | On-Boarding HTTP Server | HTTP Client |
| DHCP Client and DHCP Server | DNS Client and DNS Server | Socket API for up to 4 UDP or TCP Client/Server Sockets |
The SX-ULPGN-EVK-AT is the same hardware as SX-ULPGN-EVK, except:
The modules will be programmed with Silex AT Command Set Version 2.12.2
The module will be SX-ULPGN-2000-WW
Why SX-ULPGN-EVK-AT Is Useful?
External Host MCU Interface over High Speed UART
Supports the Use of Multiple UARTs
Separate Command/Data
Built-In Web Server
HTTPS
Use it to Evaluate RF Performance for Potential Hostless Applications
To Learn More about our IoT Connectivity Solutions cointact us us at sales@silexamerica.com