Posted by Satoru Kumashiro, June 2, 2021
Affordable, Custom Wi-Fi Connectivity Solutions Designed to Meet Strict Security Requirements
In medical facilities today, a variety of equipment ranging from networking devices for building control to portable medical devices need to connect to the network to optimize operations. With this increased number of connections comes a larger attack surface, or potential points where a security breech could occur. Thus, traditional enterprise security concerns, such as securing information and IT assets against unauthorized access and risks, are becoming more prevalent and organizations such as the FDA and medical facilities alike are prioritizing the development of new cybersecurity requirements for protecting connected assets.
For one of America's leading healthcare providers that has more than 750 medical facilities nationwide, the need to add networking devices for building control and medical devices alike to their respective networks was growing quickly. But this organization and the networking integrator they selected to were experiencing the following three major challenges with these growing connectivity needs:
The costs and logistics of running new cabled connections for devices that traditionally use wired connections
Traditional enterprise security and emerging cybersecurity concerns with Wi-Fi solutions
Long device configuration times that quickly scaled with these large-scale deployments
To navigate these roadblocks, Silex Technology engineers worked with the selected integrator to provide an affordable, customized solution tailored to meet the strict cybersecurity requirements of these medical facilities. We also created a custom configuration tool with firmware that makes initial device kitting much simpler. This simplified process involved the integrator setting up secure Wi-Fi access points with a specific network ID that was shared with Silex Technology to then pre-program all the bridge modules that needed to connect to that access point with that specific network ID. These bridge modules will connect to the access point as shown in Figure 1 out of the box. We also created unique passwords for each access point and bridge module.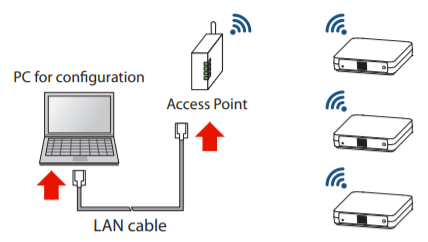 Figure 1. Once the preconfigured access point is connected to the network, all the associated bridge modules will automatically securely connect to the access point.
Without this custom configuration tool it took the integrator five to ten minutes to configure each bridge, but this tool reduced configuration time by 80 percent – a huge cost saver for the end user. As a result, the end user not only ended up with a secure and reliable Wi-Fi connectivity solution, but also saved an immense amount of time and money versus using a wired solution and when it came to the Wi-Fi device configuration.
Read the full case study to learn more about the affordable customized solutions Silex Technology provided to meet the security needs at these medical facilities.