Posted by Babar Hashim, December 15, 2017
Bluetooth Evaluation Made Easy for QCA9377-Based SX-SDMAC

Over the years Bluetooth has evolved from being used mostly for audio streaming and file sharing with BT2.0, to high-speed file transfer with BT2.1. With the updates to BT4.x, it is now also used for extremely low energy connectivity requirements for many sensor based applications ideal for the Internet of Things.
Silex Technology last year released QCA9377 based modules, the SX-SDMAC and the SX-SDPAC targeted for the IoT market segment. Last week we launched the newest member of the SX-SDMAC family, the SX-SDMAC Plus wireless module which is provides smaller form factor, extended temperature range and higher Tx power for increased coverage and enhanced performance.
All the products in our QCA9377 family are combo modules that provide both 802.11ac Wi-Fi and Bluetooth connectivity. Our latest evaluation image is now available which not only includes our optimized Silex reference Wi-Fi driver with enterprise supplicant, but now also includes BlueZ profiles ported for our evaluation platform, NXP i.MX6 SoloX Sabre SD Board (MCIMX6SX-SDB). This will help developers or system integrators to easily evaluate or develop Linux BlueZ based applications using our SX-SDxAC wireless modules. One of the reasons that many customers choose to use Bluez is that it is freely available for Linux applications at no cost. You can download our latest application note on how to get started with you Bluetooth testing on our reference platform.
Advantages of BlueZ Stack:
Full source code is available under the GPL
Socket based interfaces
Simple AP for special HCI or SDP tasks
Access to all Bluetooth host layers
Big user and developer community
Very good interoperability with Bluetooth devices
Bluez's Bluetooth stack supports a number profiles that customers can use for their applications, but for evaluation we have ported over the some of the popular ones that most customers would like to evaluate.
Profiles Available for Evaluation:
ID Host (keyboard),
SPP,
A2DP,
PAN,
FTP,
OPP, and GATT (a set of selected services only).
Please download our latest SX-SDMAC evaluation software to begin your Wi-Fi and Bluetooth evaluation.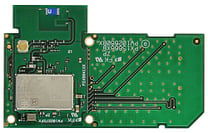 The evaluation image includes the Silex reference radio driver, supplicant and tools to test the following:
Basic Wireless Functionality
Bluez Stack for Bluetooth
Advanced Wi-Fi Security
Data Throughput
Soft Access Point Mode
DHCP Server and Client