Posted by Babar Hashim, September 27, 2017
Can the SX-SDMAC 802.11ac Radio Module be Optimized for Cost, Size and Performance?
Yes it can, and is now Available from Silex!!!

The Silex SX-SDMAC Plus is a dual-band IEEE802.11a/b/g/n/ac WLAN plus Bluetooth 4.2 SDIO module. It is the latest addition to our QCA9377 product family. This latest module is optimized for cost, size and performance. This module makes it a very viable option for customers who want to take advantage of the higher 802.11ac performance at a lower cost and smaller overall footprint.
How is it different from the original SX-SDMAC?
The new SX-SDMAC Plus is optimized for both size and cost by redesigning the PCB, removing the RF switch and the additional antenna connector available on our other SX-SDMAC SKU's. A re-designed RF front end provides higher TX power, resulting in better Wi-Fi coverage and performance.
The below table shows how this new product fits in our QCA9377 all star lineup. The "SX-SDMAC-2832S+" is what we also refer to as the SX-SDMAC Plus.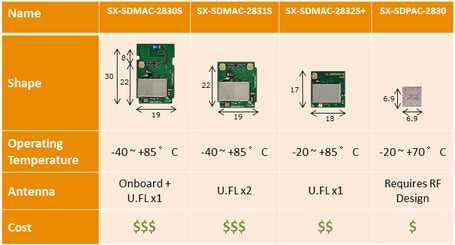 QCA9377-based Product Lineup
In addition to the hardware, there are many driver options available. We have reference drivers available for Linux, Android and Windows OS. For those who want to choose the open source route to get the benefits of having the latest kernel version supported by the open source community, ath10k driver is also available.
Key Features:
Smallest Form Factor in the SX-SDMAC Family
Lower Cost Design
Enhanced Tx Power Support
Dual Band SDIO Wi-Fi Module with 802.11ac WLAN
Link Rate upto 433 Mbps
Bluetooth 4.2 BR/EDR/LE Smart Ready
FCC/IC/CE/MIC Modular Certification
Pricing and Availability
The product is will be in production in October and will be available for purchase at our distribution partners soon. We have engineering samples in stock if you need something to get started right away for evaluation. Please contact our sales directly at sales@silexamerica.com to learn how to get started.
To learn more on the product please visit our product page.