Posted by Safi Khan, December 12, 2016
Catching the Perfect Wave of 802.11ac
Time to Move to Reliable, Next-Generation, Enterprise Wi-Fi Networks
802.11ac has quickly become the current Wi-Fi standard as 802.11n gradually moves closer to being a legacy standard. It is therefore important to understand the key features and benefits of 802.11ac. This paper explains the top reasons to move to 11ac and helps you understand how Silex is bringing an extremely reliable, next-generation, enterprise-grade SDIO Wi-Fi module "SX-SDMAC" based on industry-leading Wave2 MU-MIMO 802.11ac technology.
11ac is the first Wi-Fi standard to cross the gigabit-per-second throughput barrier. It increases the throughput and capacity of a Wi-Fi Access Point (AP).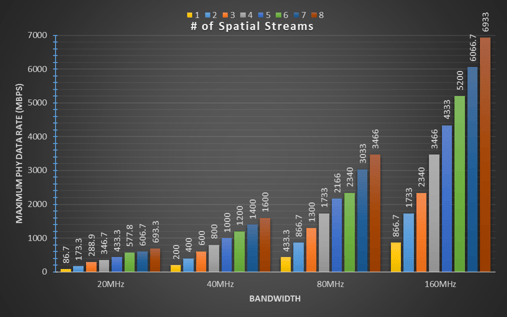 11ac introduces the following key new features (not an exhaustive list).
5GHz-only operation offers more channels and less interference than 2.4GHz.
Wider bandwidths of 80MHz and 160MHz doubling and quadrupling 11n 40MHz data rates respectively. e.g. 600Mbps 11n becomes 1.2Gbps and 2.4Gbps in 11ac.
256-QAM (8-bit data) higher-order modulation compared to 64-QAM (6-bit data) in 11n provides an additional 33% performance improvement.
Downlink Multi-User MIMO (MU-MIMO) which can transmit to up to 4 clients simultaneously in parallel as compared to Single-User MIMO (SU-MIMO) in 11n. This is a Wave2 feature that effectively increases the network capacity by 3X over 11n.
Increases the maximum number of MIMO spatial streams allowed to 8 from the 4-stream maximum in 11n. Having up to 8 antennas on an AP gives it more performance and flexibility to serve MU-MIMO clients.
Downlink MU-MIMO is a new feature introduced in 11ac. It is optional in Wave 1 products and required in Wave 2 products. In MU-MIMO, the AP serves multiple STAs in parallel. In contrast, an 11n AP can only serve each STA one at a time, so it only serves them in a round-robin fashion. With the proliferation of so many client devices in a Wi-Fi network, the round-robin method of 11n becomes in-efficient as each STA gets its data served after all other STAs have been served. Devices can starve during mission critical tasks such as medical, industrial, factory, logistics, etc. One way to mitigate this in 11n is to add additional antennas on client devices to receive more MIMO streams. However, this is not always practical as it adds cost and space in the product. So, the true beauty of MU-MIMO is that it achieves higher throughput to client devices without requiring them to increase their number of antennas.

To take full advantage of the benefits of Downlink MU-MIMO in an 11ac network, both the AP and STA (Station/Client) devices must support it. Many APs in the market today support Wave2 MU-MIMO however there are very few Wave 2 MU-MIMO client products, especially for the SDIO interface. The Silex SX-SDMAC family of modules launched in November 2016 is the first SDIO Radio Module to support 11ac Wave 2 MU-MIMO on the STA/Client side. It is based on Qualcomm's latest QCA9377 System-on-Chip that also supports Bluetooth 4.1.
To learn more about the key features of the 802.11ac standard download our white paper: Catching the Perfect Wave of 802.11ac, Time to Move to Reliable, Next Generation, Enterprise Wi-Fi Networks.