Posted by Ron Tozaki, August 9, 2017
Changes to the 5GHz Wi-Fi band in the UK

The Office of Communications, commonly known as Ofcom, is the government-approved regulatory and competition authority for the broadcasting, telecommunications and postal industries of the United Kingdom. It is similar to how FCC regulates the use of Wi-Fi channels in the United States.
UK currently use a part of the spectrum called the 2.4 GHz and 5GHz band, which is becoming increasingly congested and can impair broadband performance. Ofcom last month decided to update their regulations to allow Wi-Fi use in the 5.8 GHz band (U-NII-3). This decision opens an additional 125 MHz of spectrum in a 'sub-band' within the 5 GHz frequency range for Wi-Fi – while ensuring protection for other users, such as satellite services. The extra sub-band increases the number of 80 MHz channels available for Wi-Fi from four to six.

Summary of Changes
The Table below shows the 5GHz spectrum, and what channels and bands are allowed in the US, EU and UK. Before Ofcom's decision, UK and EU were in sync, but now the channels highlighted below have been allowed for Wi-FI use in UK.
6 more 20 MHz channels will be added 144, 149, 153, 157, 161, 165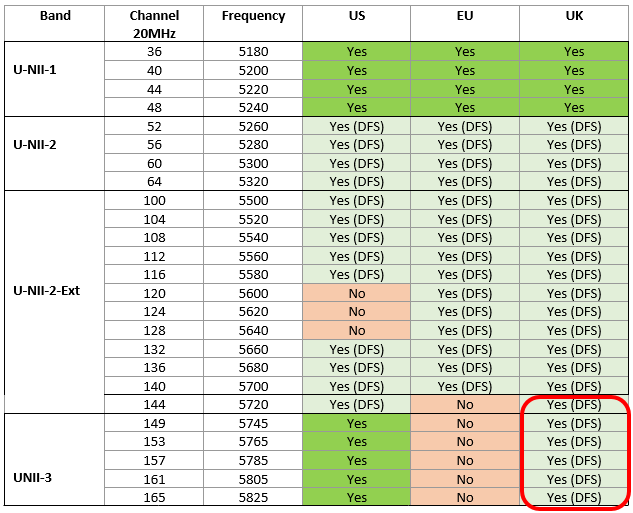 3 more 40 MHz channels will be added 142, 151, 159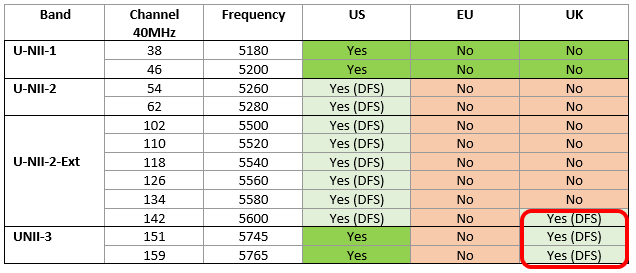 2 more 80 MHz channels will be added 138, 155

Note: Japan is also considering opening these same bands.
Advantages for UK Consumers
Additional capacity in Wi-Fi will be readily available to consumers and citizens across the UK. The benefits will include higher connection and fewer delays, because added bandwidth in Wi-Fi reduces the need for users to share channels. Channel sharing in Wi-Fi occurs by different users taking turns to use the available channels, which can introduce delays and slow down services.
Businesses across the UK use Wi-Fi and will also benefit from license exemption in the 5.8 GHz band, being able to use the additional bandwidth without the administrative cost and effort required to apply for a license. Additional bandwidth may also reduce costs for some businesses, as it makes it possible to improve their Wi-Fi coverage without requiring additional equipment to achieve this goal.
When will this UK update be in effect?
The new channels for 5GHz will take effect and will be available in UK for Wi-Fi use starting August 11th, 2017.
It has no impact to customers selling or shipping wireless products to UK, as this update added some channels in addition to what the European Union already allows. They do not have to use these additional channels if they don't want to. But if Wi-Fi vendors want UK users to take advantage of these additional channels, they will would need to update their silicon's power tables.
Silex Technology is a member of the Wi-Fi Alliance (www.wi-fi.org), and can help you obtain Wi-Fi Certification for your products, as well as compliance with other international regulatory standards. Please contact sales@silexamerica.com for more information on the services we provide.
References:
https://www.ofcom.org.uk/__data/assets/pdf_file/0016/104362/decision-wireless-telegraphy-exemption-regulations.pdf