Posted by Babar Hashim, July 8, 2020
Connect your USB Devices to your Wireless Network to Setup your Home Office
Setting up your home office or working from home is a new experience for many of us and requires quite a few adjustments to get accustomed to this new lifestyle.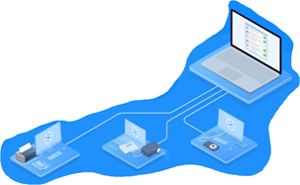 Having a dedicated workspace is essential in developing a strong work ethic. In this post COVID-19 world, many of us must now move our offices to our homes. With your IT department far away, Silex's USB device servers can facilitate a connection to many of your USB devices, creating a productive home office environment. Instead of connecting these devices, like your projector, storage devices, and printers, directly into your computer, using a wireless USB device server ensures that all devices are on your network with the ability to be accessed from any location in your house.
Many of us will likely need a printer. Printing is not nearly as essential as it once was, but there are still occasions when producing a hard copy of a document is necessary. If you have a printer and want to put it on the network so everyone in your family, including students learning remotely, can use it, our USB device servers can help you achieve that.
Silex USB Device Servers:


How did i connect my 3D Printer to my Home Wi-Fi?
Many 3D printers do not have wireless connectivity, and users end up using Raspberry Pi to develop a solution for their connectivity needs. 3D printers have come a long way in the last 2 years. It used to be the norm to be tethered to your printer and dedicate a whole computer to running your print jobs. When creating large scale installations, you may need your printers to run 24 hrs/day every day of the week. As a result, you need ultimate reliability and can't be swapping around USB cables and SD cards. It's amazingly annoying when your battery dies while you are trying to print a document, or your computer needs to restart in the middle of a print job, setting your work back by hours.
I used to have to connect my laptop to the 3D printer via USB. By using Silex's DS-520AN, I can now add my 3D printer situated in my closet to my wireless network, giving me the ability to use and access the device remotely and wirelessly from anywhere in the house.
All I had to do was connect the DS-520AN to the printer via USB cable (as shown in the image below), configure the device server with my home's network settings, and power up the DS-520AN.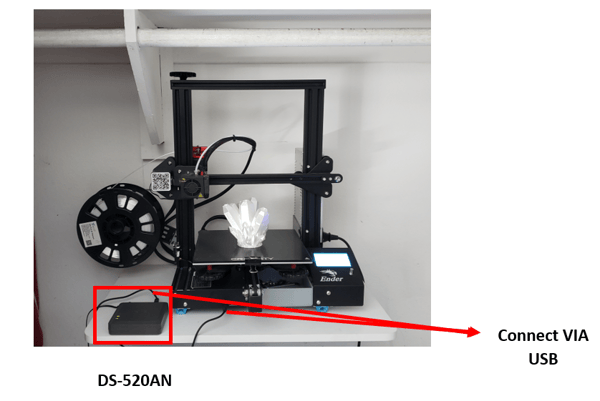 Silex's DS-520AN provided me with a quick and simple solution for wirelessly sending 3D print jobs directly from my laptop. Additionally, I plan to add a USB Camera to my setup so I can also view the documents printing in my closet from anywhere in the house, eliminating the need to go to my room frequently to check up on the status.
How to Setup USB Device Servers?
Many other potential use cases and problems can occur either in your home office or your business, where USB device servers can be an ideal plug n play solution that can save you both time and money, and improve your productivity and efficiency. To learn how to get started with our USB device servers and set it up for your application, download our application note, which distills the setup process in a few simple steps.