Posted by Babar Hashim, March 30, 2017
Can the SD card slot on the NXP i.MX7 Sabre Smart Devices Board be used for an SDIO Wi-Fi Module?
Our recommended platform to evaluate our latest embedded Wi-Fi module, the SX-SDMAC is the NXP i.MX 6 SoloX Sabre SD Board. The SX-SDMAC is a dual-band, single stream, 802.11a/b/g/n/ac plus Bluetooth "Smart Ready" module based on the latest Qualcomm Atheros QCA9377 System-on-Chip (SoC). NXP's i.MX 6 SoloX is a faster and a stronger processor supporting SDIO3.0 that makes it an ideal platform for our 802.11ac Wi-Fi SDIO module to get the best performance .
SX-SDMAC Features
Based on the QCA9377-3 SoC
11 a/b/g/n/ac Wave 2 MU-MIMO Client
SDIO 3.0 WLAN Host Interface
Bluetooth 4.1 BR/EDR/LE "Smart Ready"
Industrial Temperature
Enterprise Security
FCC/IC/CE/MIC Modular Certification
Seamless Roaming
CCX Ready
Link Rate up to 433 Mbps
Fine Tuned Calibration Per Module
Connector Mount and Surface Mount Versions Available
However, there may be some applications where customers want to use a processor that requires low power, high battery life and low-moderate processing power. For such applications customers may want to test out our SDIO radio on the i.MX 7Dual applications processor.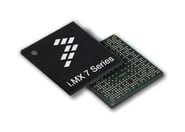 To evaluate our QCA9377 based radio module, one must use the SX-SDCAC, which is mechanically designed in a SD card form factor to provide customers with a vendor independent form factor for easy evaluation. Please note that unlike i.MX 6 SoloX Sabre SDB, the i.mX7 Sabre SD Board has only one SD card slot which brings up the issue if this SD card slot should be used for a memory card to boot up from our should we use it to plug in the Wi-Fi SD card?
The quick answer is that the i.MX7 Sabre SD board in its default configuration is not suitable to support our SX-SDCAC wireless module, or any other Wi-Fi SD card for that matter, by using the SD1 card slot of the NXP board. It is technically possible but would require to modify the board. We have investigated this issue to help our customers understand why SDCAC is not compatible to evaluate in i.MX 7 platform, and developed an application note. This has the findings from the investigation for our customers. Please download the full application note for more information.