Posted by Babar Hashim, September 11, 2014
ETSI R&TTE EN 300 328 v1.8.1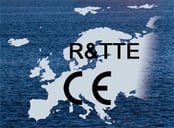 There has been quite a buzz regarding some recent revisions in EU wireless regulations during the last few months, referred to as the R&TTE updates. In this blog, I will attempt to explain this new update to the R&TTE regulation known as the "ETSI R&TTE EN 300 328 v1.8.1".
What is "ETSI R&TTE EN 300 328 v1.8.1"?
ETSI: European MICommunications Standards Institute
R&TTE: Radio and MICommunications Terminal Equipment
EN: European Norm
328: Regulations for radio emission characteristics for broadband communication devices under the 2.4GHz band.
History:
The original specification of EN 300 328, also called the ETS 300 328 was published back in November 1994. It was then updated to EN 300 328-1 (v1.2.2) and EN 300 328-2 (v1.1.1) by July 2000. The version numbers can be confusing, as logically they should have been the other way round, starting with v1.1.1 and progressing to v1.2.2.
Ever since July 2000, there have been minor changes to the standard every 1-3 years. It was last updated to v1.7.1 back in October 2006. After a span of 8 years, the governing body has again decided to make updates and changes to v1.7.1.
v1.8.1 goes into effect by Jan 1st 2015.
Significant changes and updates have been made in this revision. Its impact is such that any existing wireless products that are not in compliance with the new updates will not be allowed to be shipped into and sold in Europe. This update has taken the OEM's (Original Equipment Manufacturers) by surprise.

What are the changes?
Below is a summary of changes that we will see as we move from of EN300 328 v1.7.1 to v1.8.1:
Changes to the radio measurement test methods
A device that has passed conventional radio regulations based on the older v1.7.1 will be required to be tested and measured again as described by the new methods in the latest v1.8.1 revision. If performance of a device exceeds what is specified in the new regulation, the manufacturer is required to modify the device by reducing the output power or taking some other action to make the device conform to the new requirements.
Channel Detection
What interests wireless engineers the most is the update to the section of "Adaptivity" in section 4.3.2.5. A device which has a radiated power output of 10dBM or more is required to have the ability to detect and avoid conflict with other stations operating under the same frequency bandwidth. "Detect and Avoid" feature can sometimes be confused with DFS (Dynamic Frequency Selection) for radar radio waves at 5GHz. It is different from DFS and is defined as "CCA" (Clear Channel Assessment) in section 4.3.2.5.2.2.1.
The new test requirements in v1.8.1 specify a procedure in which continuous radiation waves are intentionally generated over the same channel frequency. This is to test if the transmitter can detect collisions and terminate its transmission accordingly. If the device doesn't do this or in other words if CCA (Clear Channel Assessment) feature is not available or does not work, the device cannot pass this test.
CCA and IEEE 802.11
Wi-Fi specification (IEEE 802.11) has a similar requirement known as "Career Sense". With this feature the device detects the absence of traffic/radiation before it starts transmitting. It can sometimes give a false sense of security that if the device complies with the IEEE 802.11, it will automatically be in compliance for the new "Adaptivity" regulation specified in EN300 328 v1.8.1. This is certainly not the case and engineers should be careful.
The IEEE 802.11's version of "Carrier Sense" has several implementation options. The IEEE802.11a/g/n (ODFM-PHY) has two kinds of modes1:
CS/CCA mode:
This mode detects only detects Wi-Fi signals.
CCA-ED (Energy Detect) mode:
This mode detects average received radio intensity regardless of a signal format.
Implementation of CCA-ED is optional depending on region and the frequency is use. The IEEE802.11 - 2012 requires CCA-ED to be implemented for frequency of 3GHz or higher in North America2. It means that CCA-ED is not implemented to a device for the 2.4GHz band.
1: Please refer to IEEE802.11-2012 18.3.10.6 CCA requirements. In regards to carrier sense options for DSSS/CCK before ODFM was introduced, refer to 16.4.8.5 and 17.4.8.5.
2: Please refer to IEEE802.11-2012 Table E-1 to E-4.
Adaptivity Support
The Adaptivity regulation in EN300 328 v1.8.1 has the following requirements that should be met:
A chip should be capable of receiving and detecting radio energy (ED – Energy Detect).
A driver should monitor ED in a specified time before sending frames.
A process needs to be added to terminate transmissions within the specified time if the received radio intensity is higher than the specified value. In case that the chip doesn't have ED capability or the driver can't be modified, the next best option is to lower the transmit power below 10dBm (10mW EIRP), so that the device is out of the application range of the Adaptivity regulation.
The transmit power of Wi-Fi modules is usually around 15dBm (30mW). If the transmit power is lowered to be in compliance, it will go down by -5dB in decibel or approximately 1/3 in wattage. Adjusting the transmit power is a workaround and not an acceptable solution and should be avoided. Most engineers would agree to that.
This R&TTE update caused some uneasiness within OEM's and was a major issue until a few months ago. Partially because most 2.4 GHz Wi-Fi products did not comply with CA-ED standard and hence the assumption was that these devices could not pass the new R&TTE tests without driver modification. Since then engineers have made updates to hardware, software, drivers to get their products in compliance which will allow them to continue to ship and sell in Europe.
Why is it important to have a Reliable Partner for your Wi-Fi needs?
To many people Wi-Fi is just a standard that products using wireless technology comply with. It is a very simplistic view, and is good enough for users who use Wi-Fi just to connect their laptops and PC to browse the web. But when it comes to selling and shipping these products with Wi-Fi functions and features in the global market, a regulation change like EN300 328 v1.8.1 can have huge repercussions.
Chip vendors sometime stop supporting for their chips and modules long before they are actually EOL (End of Life). This happens for products that have a very long life cycle, such as medical and industrial devices. Silex, being a vendor of choice for many of our customers, got quite a few support requests (for R&TTE) recently for their products that used a very old chipset. Some were so old that I was surprised that some device manufacturers still used these chips.
It is for situations like these, that I strongly believe that customers should have a very reliable and experienced partner for their wireless needs, so that they have adequate help and support for their products when regulatory updates such as EN300 328 v1.8.1 are introduced.