Posted by Satoru Kumashiro, December 1, 2022
Charité Hospitals Securely Connects Medical Devices Using Silex Ethernet-to-Wi-Fi Bridges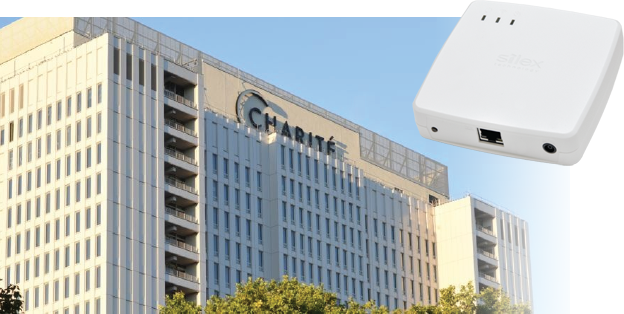 Charité is one of the largest university hospitals in Europe, extending over four campuses with more than 100
different departments and institutes, making a total of 17 different Charité Centers.
Our Ethernet-to-Wi-Fi bridges have been used in these large hospitals, which employ the 802.1X EAP-TLS/EAP-TTLS authentication for their enterprise network.
Charité's team has adopted four generations of the Silex's bridges to update the Wi-Fi security and performance since their first deployment of our SX-BR-4600WAN. We support Charite's IT team with both updated hardware and updated product firmware when security requirements change.
The latest solution for Charité is the BR-500AC, which is the 802.11ac wave2 Wi-Fi bridge supporting high data throughput and a highly secure Wi-Fi link with WAP3-Enterprise with TLS1.2. The BR-500AC is also qualified by a couple of medical device manufacturers as their wireless connectivity solution for an EKG machine, an ultrasound system, a visual data recording system, and so on.
Access here to learn more about Charité's case study.
Contact us to learn more about our highly reliable wireless connectivity solution proven in the medical industry.