Posted by Safi Khan, March 28, 2017
Silex Technology Introduces Next Generation Ethernet to WiFi Bridge and USB to WiFi USB Device Server
Santa Ana, CA., March 28, 2017 – Silex Technology America, Inc., a global leader in wired and wireless networking solutions, today introduced the BR-310AC and the DS-520AN respectively. The BR-310AC is a wireless bridge which enables any Ethernet device to become an 802.11a/b/g/n/ac wireless network device, giving the freedom to place it anywhere in your facility. The DS-520AN allows any USB device to be used over a dual-band wireless or gigabit wired network as though it was connected to a computer, thus eliminating the 5m USB cable limit.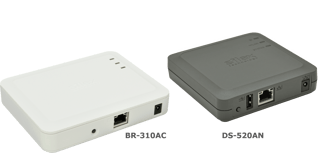 The BR-310AC address growing market demand for large data transfers, such as high-resolution medical images, IP camera footage at factories and warehouses, etc.
"We are excited to announce our latest 802.11ac WiFi Bridge," said Safi Khan, Manager of Product Marketing at Silex. "Using the BR-310AC, Ethernet devices can be placed in locations where running cables is difficult or impossible."
BR-310AC Features:
11ac 3x3 MIMO
Enterprise Security
Gigabit Ethernet port
Single and Multi-Client Modes
Extended Data Logging
"AMC Manager®"
Using the DS-520AN, virtually any USB device can be used over a network exactly as if it were physically connected via a USB cable.
"We are excited to announce our latest Dual-Band USB Device Server," said Babar Hashim, Product Marketing Manager at Silex. "By sharing one high-end network printer in any enterprise environment, the DS-520AN reduces total cost for the users."
DS-520AN Features:
Dual band IEEE 802.11a/b/g/n
Enterprise Security
Silex SX Virtual Link ® USB over IP Technology
Isochronous Data Transfer Support
Wireless Print Server
Silex Embedded Software Suite for Embedded OEM Customization