Posted by Matthew Buckett, October 25, 2017
Silex Volunteers at Local Food Bank
One of our key focuses and passions here at Silex Technology America is in finding ways to become more involved with our local communities and to help give back to those in need within it. Over the past years Silex has been able to work with and support a number of organizations and causes throughout our local communities. Recently some of our team members in California had the privilege of coming alongside to support the OC Food Bank in Orange County, CA., an organization that is focused on fighting to end hunger within our local community.
We arrived at their warehouse and food distribution center early on a Saturday morning ready to be put to work. We came into the day with just one simple task - pack as many food boxes as quickly as possible during our working shift. The OC Food Bank prepares and distributes more than 26,000 packaged food boxes to those in need every single month.
Before we were put to work, we were given a quick overview of the hunger crisis affecting our local community. Nearly 1 out of every 5 children in Orange County go hungry each and every day. Not only that, but many of our community's senior citizens don't have the necessary remaining funds after their living expenses to purchase enough food to sustain them. Without help, those in need are left with no other alternatives except skipping meals.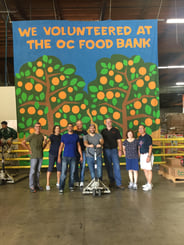 With that heartbreaking reality in our heads, we all quickly found the motivation within us to get to work. We manned a production line, and alongside colleagues, family and friends, we helped pack key food essentials into small but life sustaining cardboard boxes. Each box that we packed would be earmarked and distributed to a person in need within our local community.
We worked hard and all of us were certainly tired and sore by the end of our shift. As we finished and we counted up our work, we were overwhelmed to learn that our hard work helped package 2160 boxes of food!
For me it was a sobering reminder of how extremely blessed we truly are. It's so easy to miss and forget the fact that there are so many starving people living right next to us in our community. Globally, The United Nations Food and Agriculture Organization, estimates that over 795 Million people are suffering from what's deemed chronic malnourishment. That's 1 out of every 9 people in this world.1
I'm thankful to be a part of an organization like Silex that places a focus on partnering with and supporting our local community. And though our work may have been small in scheme of global hunger, its one step in the right direction to realizing a world where no child, or family, or person goes hungry.
2016 World hunger and poverty FACTS AND STATISTICS