Posted by Babar Hashim, March 24, 2017
Silex's Latest Serial Device Server Featuring Qualcomm's QCA6234 Radio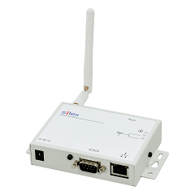 SD-320AN is a dual band serial device server for RS-232 serial devices that need to connect to a secure network. It adds dual band wireless connection to an enterprise class wireless network. It supports wireless security with 802.11x authentication protocols for added security. It is targeted to be the successor product for the SD-310AN. It is based on the newer Qualcomm Atheros radio, QCA6234, which is ideal for customers who are looking for long product lifecycle.
SD-320AN Features:
Dual band IEEE 802.11a/b/g/n support
Easily connect and share RS-232 serial devices on wireless networks
Enterprise security support
Access, monitor and control equipment over Ethernet or Wi-Fi
Multiple serial port modes and wireless modes for maximum flexibility in any environment
Optimized for roaming
Support for Windows, MAC and Linux
Multiple Serial Port Modes
Serial Port Emulation Mode: The included Silex SX-Virtual Link software precisely emulates a serial port (or COM port) connection on a computer operating system, and then redirects the packets over the network to the serial port of the SD-320AN.
Raw TCP Connection Mode: This mode makes it possible to possible to directly communicate with a serial device via TCP application program using a TCP socket API.

eCable Mode: Serial data can be tunneled over the network between devices connected to SD-320AN.

Wireless Modes

Wireless Station (Client) Mode: The SD-320AN can connect to an existing 802.11a/b/g/n Wi-Fi network. The dual band capability and enterprise security ensure a stable connection to even the most advanced wireless networks.

Wireless Access Point Mode: The SD-320AN can create a wireless network so any wireless client (station) can easily make a direct secure connection.

Want to evaluate now?
The SD-320AN is available from Arrow ELectronics at $249 (MSRP).