Posted by Babar Hashim, February 1, 2017
SX-582 - The Next Generation Embedded Intelligent Wireless Module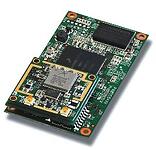 SX-582 is a high-performance Serial/Ethernet to Wi-Fi embedded module, based on the Qualcomm Atheros AR6234 system in package (SiP) solution, that provides dual band 802.11n wireless connectivity for device manufacturers who want to add robust and secure Wi-Fi.
It features a 32-bit 454 MHz Freescale i.MX28 processor with an 802.11a/b/g/n radio, a complete TCP/IP network protocol stack, and an optimized QCA6004 wireless radio driver and security supplicant in a self-contained hardware package. A major advantage of the SX-582 is enterprise security, including WPA2 with 802.1x authentication, which enables it to be used on almost any customer's network without compromising security. We have also added multi-client bridge support to the product as a standard feature.
This product is ideal for minimizing the upfront engineering investment and reducing time to market by eliminating the need for the development of a wireless LAN driver and security supplicant. Also the product has modular certifications for North America, Europe and Japan, thus also reducing the certi­fication costs for our OEM customers.
SX-582 Features:
Based on Qualcomm Atheros QCA6234 SiP
Dual Band 802.11 a/b/g/n
Serial, Ethernet, USB, and UART Interfaces Available
Enterprise Security
Multiclient Bridging Support
Utilizes on-board Processor and Network Protocol Stack
Simple wireless setting using the Smart Wireless Configuration
FCC/IC/CE/MIC Modular Certified
Fine Tuned Calibration Per Module
How do you evaluate?
The Silex SX-582-6900-WWR evaluation kit is designed to help you to easily evaluate the hardware/software of our SX-582 intelligent module. The evaluation platform includes a SX-582 module with an antenna to test the following
Basic Wireless Functionality
Enterprise Security
Throughput
SX-582 built in utilities and features
The product is in full production and available for purchase at our distribution partners. For additional questions contact our sales team at sales@silexamerica.com.