Posted by Keith Sugawara, December 16, 2016
Test, Fix, and Enhance: Developing Reliable Enterprise Wi-Fi Solutions
As we all know, all software will have some bugs. Some problems are fairly easy to discover, but others only occur in specific situations, making it difficult to reproduce them or even discover that they exist. At Silex Technology, we test our software in as many scenarios as possible so we can identify and resolve problems before our product gets into the hands of our customers.

Sometimes, bug fixes and feature enhancements require modification to the radio source code. As one of 15 Qualcomm Atheros Authorized Design Centers (ADCs), Silex Technology is one of the few companies in the world enabled with radio source code access. This allows us to make tweaks and modifications for reliability and performance that is not available to most of our competitors.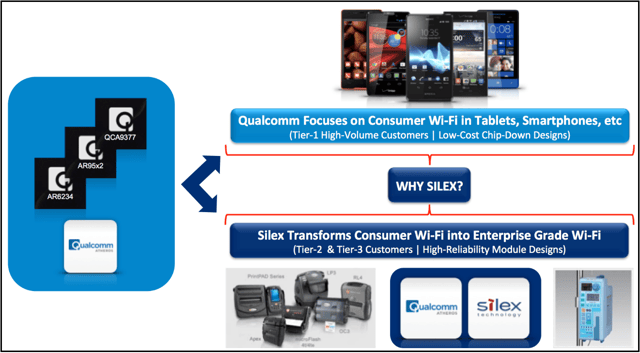 Silex Technology brings stability to the Qualcomm Atheros technology used in consumer mobiletechnology today to ensure it can be used in critical, always-on enterprise devices.
Because of our unique access, we made 41 revisions to the host driver and 28 revisions to the Qualcomm Atheros AR6003 reference driver radio firmware when creating our SX-SDMAN module. We also completed the following feature enhancements:
Automatic antenna selection —This provides firmware-controlled automatic antenna selection as an option.

Wi-Fi certification assurance —This certification gives users confidence that Wi-­Fi products bearing the Wi­-Fi CERTFIEDTM logo have passed rigorous interoperability certification requirements.

Cisco compatibility extensions (CCX) —This adds support for fast roaming (CCKM) with upgraded security, reliability, and diagnostic performance.

Configuration improvement —Through the use of the sxwlanconfig, a Silex Technology proprietary wireless LAN application, it is possible to inquire and set radio parameters not accessible through the standard Linux configuration applications.
At Silex Technology, we ensure enterprise reliability for our products by starting our development with Qualcomm Atheros reference drivers. We then put those drivers through a rigorous multi-step process to test, fix, and enhance the host driver and radio firmware before releasing it to provide an Absolutely Must Connect experience for our customers.
To learn more about how Silex makes the best off-the-shelf chips available even better, download the white paper: Test, Fix, Enhance: Transforming Qualcomm Atheros Reference Drivers into Reliable Enterprise Wi-Fi Solutions.