Posted by Babar Hashim, December 15, 2017
The Next-Generation SX-SDMAC Plus Delivers Smaller Size, Lower Cost, and Higher Performance

Silex Technology America, Inc., a global leader in wired and wireless networking solutions, today announced the newest member of the SX-SDMAC family, the SX-SDMAC Plus wireless module. This dual-band IEEE 802.11a/b/g/n/ac WLAN plus Bluetooth 4.2 SDIO module fulfills a strategic role in Silex Technology's embedded wireless product portfolio, opening new opportunities and markets.
Building upon the SX-SDPAC and SX-SDMAC series, the SX-SDMAC Plus takes the best of both product categories with the smallest form factor in the SX-SDMAC module family, extended temperature range, and product longevity. The new design also has higher transmit output power than the SX-SDMAC, thus increasing the Wi-Fi network range for increased coverage and performance.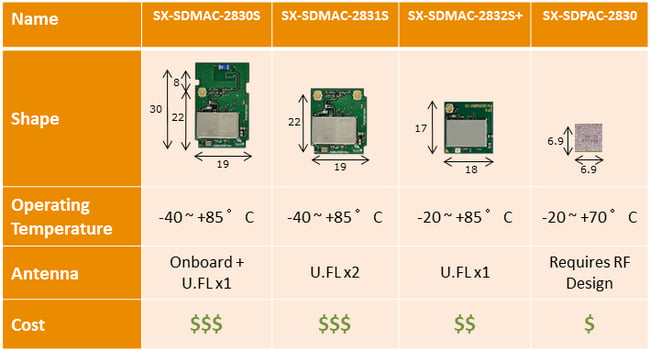 SX-SDMAC Plus Features:
Smallest form factor in the SX-SDMAC module family
Based on the QCA9377-3 SoC
IEEE 802.11a/b/g/n/ac Wave 2 MU-MIMO Client
SDIO 3.0 WLAN host interface
Bluetooth 4.2 BR/EDR/LE Smart Ready
Enhanced transmit output power for increased Wi-Fi range and performance
Link rate of up to 433 Mbps
Support for enterprise security, seamless roaming, and CCX
Fine-tuned calibration per module
FCC/IC/CE/MIC modular certification
Extended temperature range of -20 to +90°C
Available in surface mount and SDIO card form factors
Driver support for Silex AMC driver, Code Aurora, ath10k mainline, Windows, Android, and RTOS
Download the detailed product specifications to learn more about this latest module.