Posted by Satoru Kumashiro, October 26, 2020
Thermal camera installation into wireless network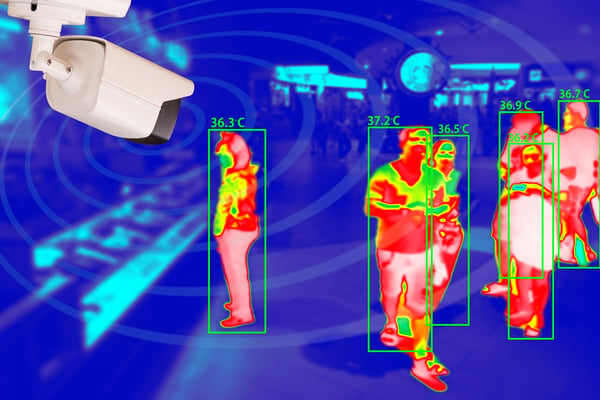 We have seen many facilities have implemented a temperature screening process. A thermographic system is considered an effective initial temperature assessment tool in high throughput areas (e.g., schools, theme parks, cinema theatres, gyms, airports, shopping malls, restaurants, warehouses, factories, etc...).
Temperature measurement at a facility entrance has been widely adopted as an initial screening. It is usually done in-person with handheld devices and the most effective method to check individuals. IT systems may not be required for this purpose. It is also possible to install a workstation with a thermal camera, a computer, and a staff to monitor incoming guests. Using a network thermal camera at a facility entrance will require an IT system so that the thermography is monitored remotely. Staff at the door is immediately called as soon as a potentially infected person is found. Considering the symptom can appear later, it is more desirable to keep monitoring the temperature in facilities than one-time screening at an entrance. Thermal cameras will be suitable for this purpose as it can cover a broader area to watch more people's temperature. IT system is also desirable to monitor streams from all cameras or manage them in one place.
Installation of the thermal cameras to an IT system may have some challenges, especially when you encounter the following situations;
a lack of Ethernet LAN infrastructure

your thermal cameras designed to be used with a computer through USB connection
You may be able to install wired LAN infrastructure or mobile stations with a thermal camera and a staff, but it may be costly. If you have already had wireless LAN infrastructure, silex technology offers alternative solutions to connect your thermal cameras to your wireless LAN.
Ethernet to Wi-Fi bridge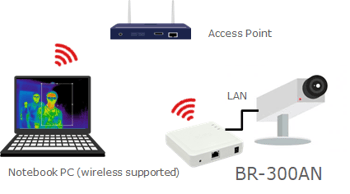 Silex's Ethernet to Wi-Fi bridge seamlessly connects your thermal camera with an Ethernet port to your Wi-Fi network. Silex's Wi-Fi bridge supports WPA2-Enterprise (802.1X) security. Deployment with the Ethernet to Wi-Fi bridges is much more affordable than Ethernet cable installation in terms of cost and time. Even if you do not have an access point at an appropriate location, we also offer a mesh network system, BR-400AN. Silex's Ethernet to Wi-Fi bridges and the mesh network system are easy to use and manage. AMC Manager® provides IT administrators with a sophisticated management interface for all bridges on your network.
USB device server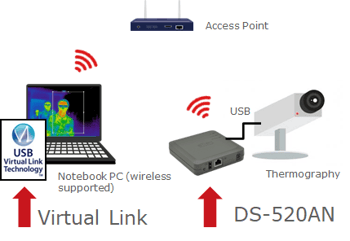 Silex's USB device server, together with its SX-Virtual link technology, provides wireless connectivity to USB thermal cameras. Silex's virtual link technology allowed users to access USB devices wirelessly as if it is plugged into your computer. The USB device server supports WPA2-Enterprise security. USB thermal camera can be shared with multiple users. It is also possible to prevent access from unknown IP addresses. The USB device servers can be managed through AMC Manager® as same as our Ethernet to Wi-Fi bridges.
Please visit our product pages for more information or contact us.