Posted by Matthew Buckett, June 7, 2022
Webinar June 21: Accelerating the Future of Connectivity to Wi-Fi 6E
As the existing 2.4 GHz and 5 GHz Wi-Fi bands become overcrowded, reliably running bandwidth-intensive and mission-critical Wi-Fi devices is increasingly challenging. Instead of continuing to navigate these congested environments by upgrading to a dual-band Wi-Fi 6 solution, it may be best for the longevity of your investment to jump straight to a new solution based on emerging Wi-Fi 6E technology.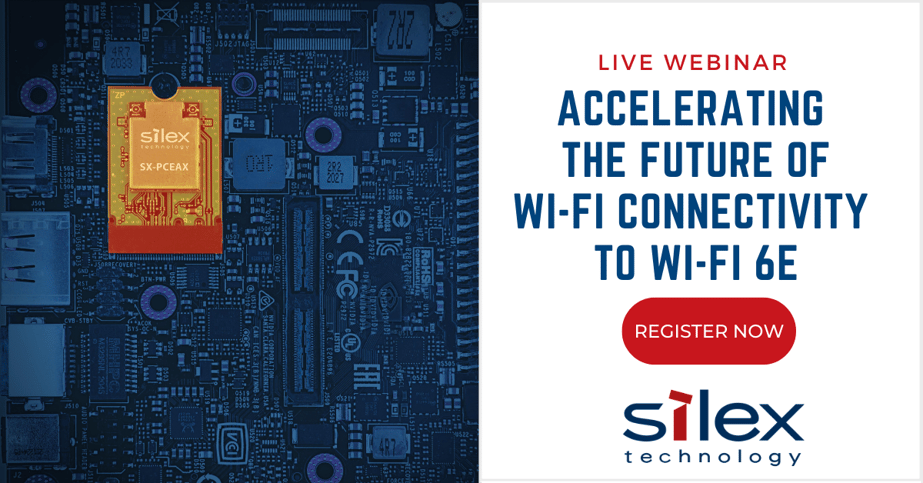 If you are not familiar with Wi-Fi 6E yet, at a high-level, Wi-Fi 6E further enhances the benefits of Wi-Fi 6, such as higher performance, lower latency, and faster data rates, by extending operations into the 6 GHz domain. This is possible because at 6 GHz there is more than 1,200 MHz of unlicensed spectrum available, which is more than double what is available at 2.4 GHz and 5 GHz combined. There is also more than triple the number of high-bandwidth channels available at 6 GHz and users will not run into interference issues with decades of legacy devices. Together, these capabilities mean Wi-Fi 6E can offer users a massive leap in wireless performance and efficiency, especially for high bandwidth enterprise applications, and further improve reliability for mission-critical devices, such as those used for healthcare.
If you want to learn more about this emerging technology, join us on Tuesday, June 21 at 11 am EDT, where we, along with representatives from Qualcomm, TE Connectivity, and Arrow Electronics will present a webinar that dives more into the details of Wi-Fi 6E and the technology making it possible. During this webinar, we will cover the following topics:
An overview of Wi-Fi 6E technology and its many benefits from Qualcomm
The details of Silex Technology's industry-first enterprise-grade Wi-Fi 6E module
Antenna solutions for Wi-Fi 6E modules by TE connectivity
How to begin evaluating Wi-Fi 6E with Arrow Electronics
If you are developing technology that Absolutely Must Connect, plan to join us to learn more about the many benefits of this newest-generation of Wi-Fi and how making the leap to Wi-Fi 6E now can help you future-proofing your designs.