Posted by Rachael Plotkin, July 8, 2020
Ready to Evaluate 802.11ah using Silex's SX-NEWAH?
Silex Technology's SX-NEWAH-US module is the industry's first 802.11ah Wi-Fi HaLow module to operate in the Sub 1Gz license-exempt band that allows you to securely connect to smart devices over long distances using minimal power. Testing the SX-NEWAH-US module can easily be accomplished using the SX-NEWAH-EVK-US, enabling you to uncover the benefits of using 802.11ah Wi-Fi HaLow technology.
SX-NEWAH-EVK's are currently available and can be purchased here.
Getting started with the SX-NEWAH-EVK
We have chosen Raspberry Pi 3 Model B as our reference platform for evaluation. To make the evaluation process easy, we have packaged our evaluation kit to include everything you need to get started. All you need to arrange for is a Windows PC and Ethernet cables.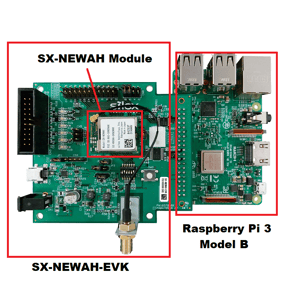 If you buy our evaluation kit, the SX-NEWAH-EVK, you will receive the following.
SX-NEWAH mounted on a daughter card ( Also referred to as the SX-NEWAH-EVK as shown in the image)
Antenna for the SX-NEWAH
AC Adapter for the SX-NEWAH-EVK
Raspberry Pi 3 Model B (Reference platform for evaluation)
AC adapter for Raspberry Pi (5V/3A or higher)
Micro SD card (Pre-loaded with Evaluation Software)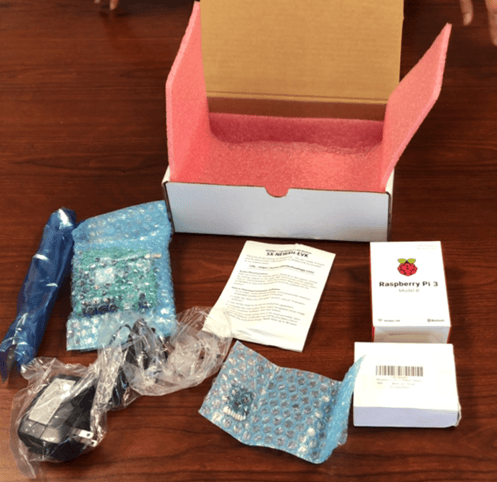 SX-NEWAH-EVK-US Contents
Our optimized wireless driver has been ported to the Raspberry platform and included in the evaluation software loaded on the micro SD card. By plugging the SD card in the micro SD card slot in the Raspberry Pi board after connecting and powering up the kit, you are up and running and ready to evaluate the capabilities of SX-NEWAH.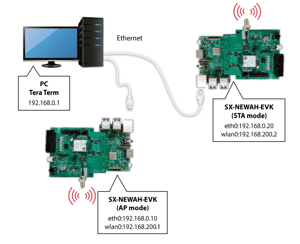 Note that you will need at least two EVK's to begin. One will act as an access point and the other as a station/client. We have created a guide for you to walk you through some basic performance tests you can run.
Learn how you can:
Configure the EVK in access point mode
Configure the EVK in station mode
Run ping tests
Run throughput and range tests using iperf
802.11ah technology allows wireless connections up to several miles. With SX-NEWAH, some of our customers have seen connectivity over 3-4 miles. Purchase your SX-NEWAH-EVK now to test the full range of this latest technology and see how you can incorporate it into your IoT application.
Interest to Learn More:
Watch our Webinar on Implementing the SX-NEWAH-EVK
For more information on evaluating your 802.11ah application using the SX-NEWAH-EVK-US, watch part 2 of our Silex Wi-Fi HaLow Webinar Series: Implementing Your First 802.11ah IoT Application with Silex's SX-NEWAH Module.
Additionally, please be sure to send your questions or requests to sales@silexamerica.com.