Posted by Rachael Plotkin, April 22, 2020
On Demand Webinar: How 802.11ah (Wi-Fi HaLow) Tech is Revolutionizing IoT Connectivity
Last month, Silex held a webinar with our partner Newracom to discuss the benefits of 802.11ah Wi-Fi Halow, and why we believe this LPWAN technology is the future of IoT device connectivity. Additionally, we introduced the Silex's SX-NEWAH, the industry's first 802.11ah Wi-Fi HaLow IoT module, powered by Newracom's NRC7292 System-on-Chip.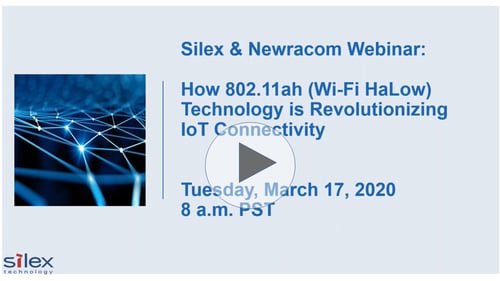 Since 802.11ah is a new technology, this webinar elaborated on how this technology came into existence, and what it brings to the 802.11 standard, which includes is a broad range of features, specifically:
Improved Range
Lower Power Consumption
Extended Data Rates
IP Connectivity
Robust Wi-Fi Security
Outdoor Coverage
Wi-Fi Ecosystem
When compared to other IoT wireless technologies, 802.11ah's ability to adapt and cover the broad range of above features and meet the ideal technical requirements needed to support IoT connectivity makes it the winning solution.

Unlike competing technologies, 802.11ah Wi-Fi HaLow's ability to adapt and cover a broad range of capabilities also means it has the potential to be used in almost any technical application. In addition to introducing our 802.11ah module, SX-NEWAH, our webinar presentation concluded with an overview of the specific user applications Silex envisions 802.11ah Wi-Fi being best suited for across the below industries:
Smart Homes

Mining, Construction, and Agriculture

Medical and Healthcare
What specific applications do you think 802.11ah Wi-Fi HaLow Technology is best suited for, and why? Watch the webinar and share your ideas with us in the comments section below.
For more details on 802.11ah Wi-Fi HaLow, and the SX-NEWAH module, please watch the full recording of the webinar above, and read our white paper, "How Does 802.11ah Compare with Other LPWAN Technologies?".