Posted by Babar Hashim, November 18, 2016
802.11ac SDIO Wi-Fi plus Bluetooth Module for Applications that Absolutely Must Connect

On Tuesday we released our latest embedded Wi-Fi module, the SX-SDMAC. The SX-SDMAC is a dual-band, single stream, 802.11a/b/g/n/ac plus Bluetooth "Smart Ready" module based on the latest Qualcomm Atheros QCA9377 System-on-Chip (SoC). It is the industry's first Wave 2 MU-MIMO IEEE 802.11ac SDIO Wi-Fi module fully certified for North America, Europe, and Japan in full production. It delivers enterprise-grade, dual-band 802.11ac Wi-Fi connectivity with link rates as high as 433Mbps.

The SX-SDMAC is designed for mission-critical applications including industrial automation, healthcare, environmental monitoring, factory automation and telematics. Highly regulated industries like medical sometimes require long product life cycles. Silex can address such customer needs by offering the option to continue manufacturing our products like the SX-SDMAC for extended periods of time in our own factory.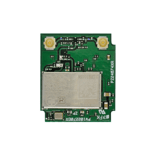 Silex Technology with its access to Qualcomm's software source code, starts with the Qualcomm Atheros reference driver and goes through a process to test, evaluate, fix, and enhance before releasing it as a SIlex referece driver. Our reference drivers go through a comprehensive DVT test plan that goes far beyond a typical AP-client connect test or range performance test. It includes complex multi-parameter testing, overnight stress testing, AP roaming tests, and enterprise security test amongst many other tests. We have released this product with our reference drivers for Linux, Android and Windows to provide flexibility to our customers. With our hardware and software expertise, we are in a unique position to enable 802.11ac connectivity for your application using the SX-SDMAC radio.
Industrial temperature support, robust enterprise security, and 802.11ac capabilities make the SX-SDMAC an ideal solution for applications such as factory automation that demand reliable operation in harsh environmental conditions such as extreme temperatures, dirt, dust, moisture, shock and vibration. Additionally, SX-SDMAC's low power design techniques make it suitable for portable handheld connected devices.
We have certified the SX-SDMAC for FCC/IC, CE, and MIC to reduce testing costs for our OEM customers. To further expedite the product development process, Silex also provides additional engineering services including custom driver development, certification services and hardware schematic design reviews.
SX-SDMAC Features
Based on the QCA9377-3 SoC
11 a/b/g/n/ac Wave 2 MU-MIMO Client
SDIO 3.0 WLAN Host Interface
Bluetooth 4.1 BR/EDR/LE "Smart Ready"
Industrial Temperature
Enterprise Security
FCC/IC/CE/MIC Modular Certification
Seamless Roaming
CCX Ready
Link Rate up to 433 Mbps
Fine Tuned Calibration Per Module
Connector Mount and Surface Mount Versions Available
On Board Antenna Version and SDIO Card Version Available
Pin Compatibility with SX-SDMAN Offers a Seamless Upgrade Path
To learn more about our offering contact us at sales@silexamerica.com.