Posted by John Halloran, August 1, 2013
Conference Room and Class Room Wireless Interactive Display
Our team has been busy this year with the launch of our new A/V Wireless Networking products, the SX-ND4050G (for Interactive Display) and X-5 (for Digital Signage).
We have seen some interesting applications for wireless cable replacement for displays including factory automation using interactive touch screen displays, digital signage, education, conference rooms, and others. Personally, I have been seeing many conference room and classroom deployments lately and I wanted to share some things I have learned.
Customers are looking to cut the cords everywhere, and wireless display is becoming a popular application. At the same time, interactive displays are becoming more and more commonplace in conference rooms and classrooms allowing the whiteboard and the display or projector to interact with each other, save space, and be more productive with the data being presented.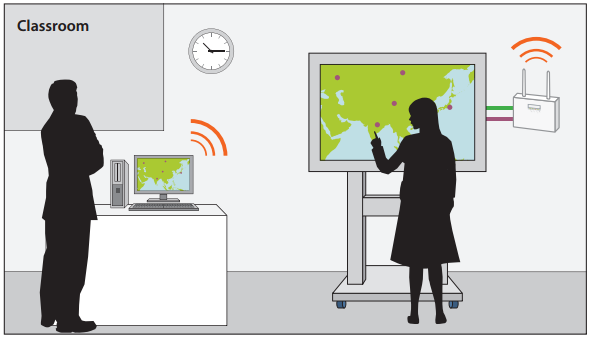 Deploying a wireless solution in these environments has some challenges, to which Silex has been working hard to overcome. These challenges include wireless and software driver configuration, interference, and more. Luckily, Silex has a whole team of engineers dedicated to design, development, and manufacturing of our own wireless modules. We work with all kinds of device manufacturers to integrate wireless including our own Silex products. We are able to take what we learn and integrate it with our own products including:
Dual Band Wireless - Support for 5GHz channel is an important feature as it allows you to separate from the traditional 2.4GHz radio frequencies so the wireless display can communicate without interference or causing interference on production networks in businesses and classrooms. The 5GHz also has more non-overlapping channels.
AP mode or STA (Client) mode Wireless Configuration - AP mode allows users to add the SX-ND4050G as a new access point on the network allowing you to simply connect to the wireless network name (SSID) configured, then connect with the NetDA Manager software. STA mode allows the SX-ND4050G to connect to the network infrastructure meaning users on the same network can easily connect with the NetDA Manager software.
Security and filtering - Simply add the IP Address or Computer name of each computer you want to be able to present in the product setup, and it will only allow those computers to display. In addition, we keep up with the latest Wi-Fi security standards for data encryption.
Keyboard Shortcuts - The other advantage of adding computers to the configuration list besides security is that meeting organizer or teacher can use simple keyboard shortcuts to automatically change computer that is presenting their display. No manual disconnection / connection is necessary and it allows control at the display instead of at the computer. If you use a mini wireless keyboard, you can change presenters from anywhere in the room.
If you have any questions about our products, please feel free to contact us (sales@silexamerica.com or support@silexamerica.com). You can also check out our SX-ND4050G FAQ for more information.