Posted by Keith Sugawara, May 1, 2020
COVID-19 Update from Silex Technology
At Silex Technology, our mission is to be "Difference Makers". We are proud to share how our organization is responding to the unprecedented challenges presented by COVID-19 and how we are taking care of our key stakeholders.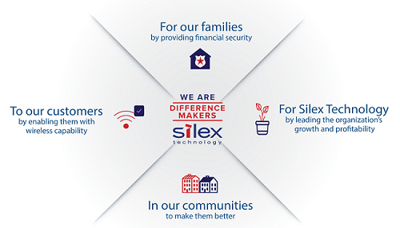 To Our Customers
Our global organization is committed to minimizing the impact of COVID-19 on our ability to continue to supply you with products and provide the engineering support that you need. Our factory in Japan is producing products at full capacity. Our procurement team is expediting the delivery of some components (i.e., power supplies) sourced from China.
Many of our engineers are now working from home. We have equipped our team with the equipment and infrastructure required to provide you with the high-quality support that you have come to expect from Silex Technology.

In Our Communities
As a leading provider and essential supplier of Wi-Fi solutions for medical devices, our products and technologies are helping society and saving lives in the fight against COVID-19. Our operations team is prioritizing production to ensure we can meet the needs of our medical customers.
Below is a partial list of applications where Silex products are "Making a Difference":
Medical Device Connectivity

- Our products are enabling Wi-Fi connectivity for hospital beds, infusion pumps, ECG machines, healthcare medical carts, etc.

COVID-19 Screenings

- Hospitals are using our wireless bridge in conjunction with thermal cameras to monitor fever levels in patients and visitors.

Remote Teleworker Productivity

- Employees currently working from home can use our wireless bridge to eliminate cables between their IP phone and their home router.
At Silex Technology, we also take pride in paying it forward by giving back to the community. Silex Technology will be matching funds received from employee donations for the Second Harvest Food Bank.
Second Harvest Food Bank provides wholesome food and fresh produce to more than 250,000 hungry children, seniors, and families in Orange County every month. We invite you to join our cause! https://www.feedoc.org/donate-now/
For Our Families
The health, safety, and security of our employees and their families is our top priority. Silex has suspended all employee travel and is closely following government directives to ensure our team members are working in a safe environment under social distancing guidelines. Additionally, we are offering employees with assistance if they have family members that have financially suffered because of COVID-19.
For Silex Technology
Despite these challenging times, Silex Technology America and Silex Technology Europe continue to stay committed to becoming the fastest growing subsidiaries of Silex Technology and expect to achieve our 2020 financial targets.
We want to thank our customers, partners and suppliers for their continued business and support. Together, we will survive this pandemic and become stronger as a result.