Posted by John Halloran, February 28, 2014
Digital Signage Expo 2014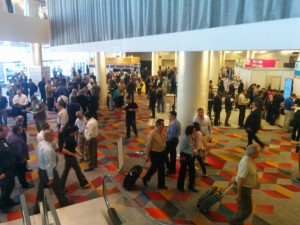 We recently attended the Digital Signage Expo at the Sands Expo in Las Vegas, Nevada. We had some customer meetings and visited the booths there to meet with current partners, forge new ones, and see the products and technology at the show. It was fairly crowded when they first opened the show.
We are excited to see that Silex seems well poised for the future of Digital Signage with our technology portfolio. We saw a lot of interactive displays and digital signage.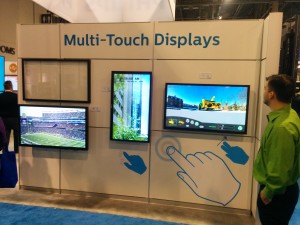 One Silex strength is our ability to connect and share to touch screen displays and other USB devices like cameras. Of course touch screen displays were everywhere at the show, but there is also a lot of applications using Kinect or Kinect like camera functions. What this means is that there is an interactive camera that can use data captured from a streaming camera to help decide what advertising or application should be displayed on the digital sign. Our SX-ND4050G Network Display Adapter solution fits this application well.
We are starting to see a lot of companies and technologies using the term "AV over IP" or "HDMI over IP". Silex Multicast Video technology has been evolving for over 7 years and we are excited to have our 5th generation product, the X-5 to address this growing market with an already mature solution. It seems like Silex is the only one out there with a wireless solution, and also the only one to combine this "AV over IP" with Local Store and Play content for fallback protection or other uses.
For more information about our AV connectivity solutions, please contact us at avinfo@silexamerica.com.