Posted by Satoru Kumashiro, October 15, 2020
Install FBR-100AN into a Wi-Fi mesh network
The FBR-100AN is a powerful tool to monitor CNC machine data in MTConnect® format through Ethernet or Wi-Fi network. Even a CNC machine without a network interface can join your network by connecting to the FBR-100AN via a serial interface, a digital pin, or Patlite AirGrid®.
What if there is no network infrastructure to connect the FBR-100AN with, or a wireless radio band has already been congested? Silex provides a solution to add or enhance your network infrastructure. In general, adding a network infrastructure into existing facilities involves installing Ethernet cable and access point(s) and radio congestion survey in case of a wireless network. Major challenges in a factory to build a network infrastructure are;
LAN network does not cover the entire facility

Constraints where Ethernet cables can be installed (only possible under a floor or on a ceil, requirement of plumbing)

Frequent manufacturing line layout change requires machines movement, which makes fixed network installment difficult

Crowded wireless radio band

These efforts require lots of investment and time. It may not be easy to justify the investment to build network infrastructure.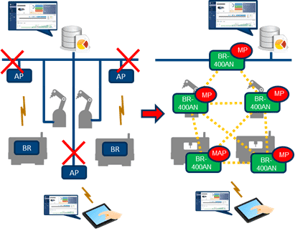 Silex addresses these challenges by providing a mesh network solution with BR-400AN. Installing the mesh network with BR-400AN requires neither cable installation nor an additional wireless access point. BR-400AN can;
build a wireless LAN by its mesh networking capability.

automatically route the wireless connectivity among devices.

provide an access point to a client device through MAP (Mesh Access Point) mode.

provide wide-range wireless network coverage by a multi-hopping topology.
Eliminating a need for cable installation, the network installation in the factory becomes much more affordable. It also provides more flexibility to a re-layout of the manufacturing line later on.
Silex's mesh network solution provides features to build a secure and redundant network to protect your factory from cybersecurity attacks and undesirable downtime.
In terms of security, the BR-400AN supports IEEE 802.1X authentication, MAC address filtering, and AES encryption within the mesh network.
The BR-400AN can build a redundant network by connecting multiple BR-400AN to your backbone network. The loop detection feature of the BR-400AN prevents the system from creating a network loop to cause network disruption. The BR-400ANs communicate with each other to determine a master unit and a slave unit when they are connected to the backbone network. When a network on the master unit has an issue, the slave unit automatically detects the problem and turns itself into the master unit to reroute the network path.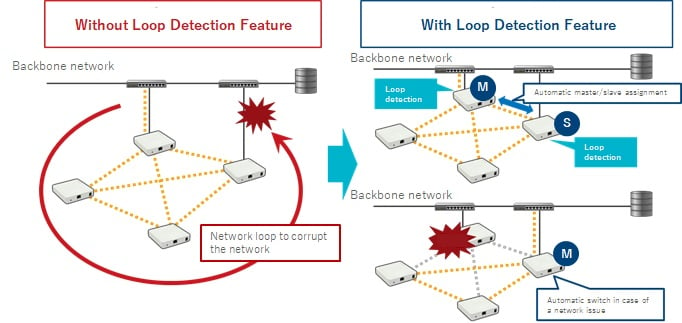 Lastly, silex provides a powerful administrative software called AMC Manager® and Mesh Monitor® (a plug-in to AMC Manager®). The software visualizes the mesh network topology in place and allows all units in the network to be managed remotely.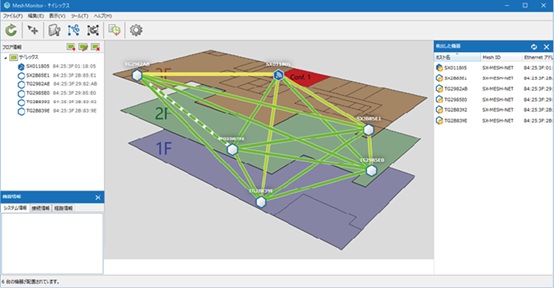 Combining the FBR-100AN and the BR-400AN is a suitable solution to build a secure and reliable smart factory network to resolve a lack of network infrastructure and machine operations visibility.