Posted by Govardhan Shanmuga Sundaram, September 20, 2017
New Access Point SX-AP-4800AN2 with advanced security and PoE support
Silex Technology launches SX-AP-4800AN2 Access Point, a dual Band supporting IEEE802.11a/b/g/n with Enterprise Security, and PoE capabilities. This product supports enterprise security with 802.1x authentication, makes it an apt product for business and factory environments.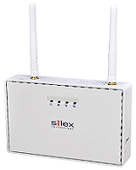 Top features:
1. Advanced security
SX-AP-4800AN2 supports enterprise security with 802.1x authentication,
WPA (TKIP/AES)
WPA2 (AES)
IEEE 802.1X EAP-PEAP, EAP-TLS, EAP-TTLS
2. WDS (Wireless Distribution System)
It extends the wireless range from the root AP, by allowing the Silex Access Point to act as a repeater providing a completely wireless infrastructure.

3. PoE (Power over Ethernet)
IEEE 802.3af makes this device gets powered through netwrok cable . AC adapter is also included with this as an additional option of power.
4. AMC support
Absolutely Must Connect technology, now being able to deliver a reliable wireless connection from the device all the way to the network infrastructure.
Now with the Access Point, Silex can support the entire wireless link. This means that device manufacturers and system integrators looking for a way to be able have the flexibility of wireless capabilities, with support from one company for the complete wireless connection to the network, can come to Silex for the solution. This is relevant for our embedded wireless, device networking, and our AV networking customers looking to provide a more stable and guaranteed wireless connection for critical applications.
For more information, see the press release, product page, and contact one of our wireless experts:
phone: +1 801-748-1199
email: sales@silexamerica.com