Posted by Govardhan Shanmuga Sundaram, September 19, 2017
New Wireless Infrastructure 802.11 ac Access Point with 1.3Gbps data rate
Silex Technology, a global leader in wired and wireless networking solutions, today launched AP-500AC, which is a wireless access point (Base unit) that corresponds to a high-speed wireless LAN communication with theoretical value of 1.3Gbps data rate. It is a Dual Band 802.11ac Access Point with 802.11r Enhanced Roaming, Enterprise Security, and PoE capabilities.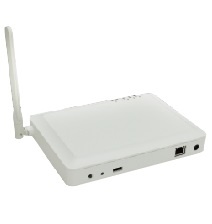 Top features:
1. Higher throughput
Because of it's simultaneous operation of the 5GHz band (11ac/a/n) and the 2.4GHz band (11n/b/g) , it is able to acheive 1.3Gbps data rate. It is approximately four times faster when compared to the 802.11a/b/g/n , proving effective in the transmission of large amounts of data .
2. WDS (Wireless Distribution System)
AP-500AC allows us to support a complete wireless environment all the way from a device to the wired network infrastructure. and also to expand the range by its WDS (Wireless Distribution System) functionality . The WDS is composed of one Root AP running a host and Plural Repeater APs runnins as a client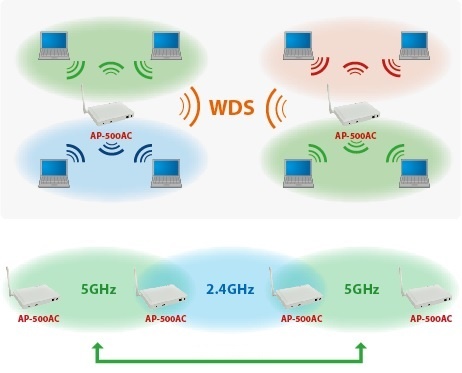 3. PoE (Power over Ethernet)
This product is in compliance with IEEE802.3af which supports PoE (Power over Ethernet). Thus apart from the adaptor , this also gets powerd over ethernet.
Other Features
Multi-SSID - Supports Multi SSID, up to 4 virtual network groups can be established .In addition, you can set different security for each SSID. IEEE802.1Q corresponds to tag VLAN function of compliance, combined with multi-SSID function, it is possible to build multiple network groups virtually
Enhanced roaming - 802.11r, a QoS (Quality of Service) technology which allows clients to roam from one access point to another in less than

50 milliseconds by streamlining the authentication process using a function called FT (Fast Basic Service Set Transition)

AMC Support

- Integrated device management software

enables users to easily configure, manage, and monitor products connected to a wired or wireless network remotely. AMC Manager optimizes operation management of multiple wired and wireless devices installed at multiple locations, allowing the labor-saving and cost reduction of the operational management.
Now with the Access Point, Silex can support the entire wireless link. This means that device manufacturers and system integrators looking for a way to be able have the flexibility of wireless capabilities, with support from one company for the complete wireless connection to the network, can come to Silex for the solution. This is relevant for our embedded wireless, device networking, and our AV networking customers looking to provide a more stable and guaranteed wireless connection for critical applications.
For more information, see the press release, product page, and contact one of our wireless experts:
phone: +1 801-748-1199
email: sales@silexamerica.com