Posted by Ann Le, August 25, 2023
Silex Achieves NXP Gold Partner Status
In the dynamic world of technology collaborations, achieving the status of a Gold Partner within NXP's Partner Program holds immense significance. Silex Technology is thrilled to announce our Gold Partnership status with NXP Semiconductors.



Our Journey to Excellence:
The NXP Partner Program comprises a global network of independent engineering companies that offer the vital tools, software, technology, engineering services and training to accelerate product design and development. The NXP Partner Program creates interest in products and allows us to work together on win-win objectives. Our journey towards this partnership was marked by unwavering commitment to working intimately with NXP's team and technologies and providing unparalleled value to our customers.

The Significance of the NXP Gold Partnership:
This Gold Partnership status signifies a remarkable alignment of values between Silex and NXP. It exemplifies our dedication to pushing the boundaries of what's possible in wireless connectivity solutions. As an NXP Gold Partner, Silex is recognized as a knowledgeable and experienced partner that rounds out their enablement. It's a testament to the dedication, expertise, and innovation that Silex brings to the table. Through this significant partnership, we gain access to a host of benefits that enable us to better serve our customers and create even more cutting-edge solutions.
Silex Technology's SX-SDMAX Module Powered by NXP:
At the heart of our Gold Partnership accomplishment lies the SX-SDMAX, our Dual-band Wi-Fi 6 plus Bluetooth® Combo SDIO Module Powered by NXP. This module exemplifies our commitment to harnessing NXP's technologies to their fullest potential. The SX-SDMAX is a true testament to the seamless integration of Silex's expertise and NXP's innovation.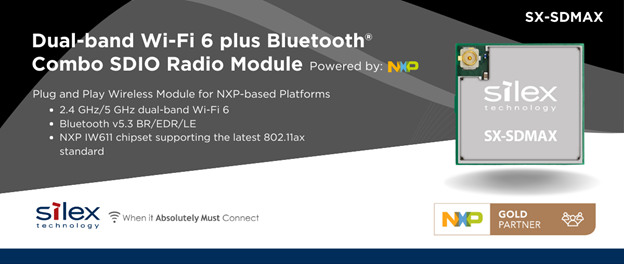 The SX-SDMAX is a next-generation, dual-band, dual-concurrent 802.11a/b/g/n/ac/ax Wi-Fi with Bluetooth 5.2 module. It's designed to cater to the increasing demands for higher data rates, lower latency, and enhanced connectivity in a wide array of applications. From IoT devices to industrial solutions, the SX-SDMAX offers unparalleled performance, reliability, and security.

The Road Ahead:
As Silex continues to bask in the excitement of achieving Gold Partnership status, we're more motivated than ever to explore new horizons. Our collaboration with NXP has opened doors to even more advanced technological possibilities, and we're committed to harnessing this partnership to innovate, create, and deliver solutions that exceed expectations. We're honored to be in the Gold Partner league and are excited about the opportunities that lie ahead.
Please contact us for more information on our SX-SDMAX Dual-band Wi-Fi 6 plus Bluetooth® Combo SDIO module, or any of our other wireless connectivity solutions!