Posted by Babar Hashim, August 2, 2018
Silex Technology Introduces 802.11ac PCIe Wi-Fi plus Bluetooth Module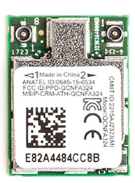 Qualcomm Atheros QCA6174 module supporting two spatial streams delivers superior integration of WLAN/BT
Santa Ana, CA., August 1, 2018 – Silex Technology America, Inc., a global leader in wired and wireless networking solutions, today introduced its newest embedded Wi-Fi module, the SX-PCEAC2. It is a dual-band 802.11a/b/g/n/ac plus Bluetooth module supporting two spatial streams based on Qualcomm Atheros QCA6174 radio. It also supports Wave 2 MU-MIMO delivering enterprise-grade, dual-band 802.11ac Wi-Fi connectivity with link rates as high as 867Mbps. The SX-PCEAC2 is designed for high performance, media rich mobile device, mission critical industrial applications, medical devices and more.
"The SX-PCEAC2 is ideal for bandwidth intensive applications and improves overall network efficiency and network and reliability in high density environments," said Babar Hashim, Product Manager at Silex Technology. "Along with all the performance benefits, the SX-PCEAC2 is the smallest, most integrated, cost effective QCA6174 radio module in the market measuring only 12mm x 16mm which includes all the RF circuitry out to the antenna connector. This makes it easy for customers to integrate into their end products."
As one of a select few of Qualcomm Authorized Design Centers, Silex provides leading wireless technology with unmatched support around the world. We have certified the SX-PCEAC2 for FCC/IC, CE, and TELEC to reduce testing costs for our OEM customers. We provide driver support for operating systems such as Linux, Windows and Android. Our reference platform for driver evaluation and development is the NXP's iMX 8 EVK platform. To further expedite the product development process, Silex also provides additional engineering services including custom driver development, certification services and hardware schematic design reviews.
SX-PCEAC2 Features
Dual-Band 802.11ac Wave2 with MU-MIMO
SX-PCEAC2 is a 802.11ac WLAN plus Bluetooth combo solution that supports 2x2 MU-MIMO with two spatial streams for designed to deliver superior WLAN and BT performance.
Multiple Form Factors for Diverse Needs
SX-PCEAC2 s available in both surface mount (M.2 LGA Type) and half mini PCIe form factors.
Enterprise Security Support
The SX-PCEAC2 supports WPA and WPA2 including 802.1x Extensible Authentication Protocol (EAP) types. It provides robust security for enterprise demands.
Support from Design to Manufacture
As Qualcomm's Authorized Deisgn Center, we have direct access to their design information that enables us to provide premium hardware and software support from design through deployment.
Modular certifications and approvals available for FCC (USA), IC (Canada), ETSI (Europe), MIC (Japan).
Pricing and Availability
The product is in full production and is now available for purchase at our distribution partners. Contact Arrow Electronics to order now. Click here to learn how to start your evaluation.
About Silex Technology America, Inc.
Silex Technology builds on more than 40 years of hardware and software connectivity know-how and IP, custom design development experience, and in-house manufacturing capabilities, bringing value to customers with a foundation of technical expertise. With relentless attention to quality, exclusive access to Qualcomm Atheros expertise, and strategic partnerships with leading semiconductor providers, Silex Technology is the global leader in reliable Wi-Fi connectivity for products ranging from a medical device to a document imaging product to a video or digital display. With Silex Technology, customers get a single vendor that provides hardware and software support from design through manufacturing for successful product after successful product. For more information, please visit www.silexamerica.com.