Posted by Satoru Kumashiro, December 9, 2020
What does 802.11ah bring to healthcare facilities?
Benefits from 802.11ah HaLowTM
Sub-GHz Wi-Fi technology, 802.11ah Wi-Fi HaLowTM, is now available for its deployment. 802.11ah Wi-Fi HaLowTM network can be added to existing Wi-Fi infrastructure without interfering with 2.4G/5GHz radio. It also brings the coverage range's advantage due to less attenuation, better penetration through construction walls, and diffraction around obstacles than 2.4G/5GHz radio.
Avoid crowded 2.4G/5GHz band
Healthcare facilities like hospitals face a challenge to accommodate more Wi-Fi device connections. 2.4GHz band has already been overcrowded. 5GHz band has been utilized to avoid 2.4GHz band. However, even the 5GHz band has its challenges for deployment in the healthcare facilities. (e.g. incompatibility with legacy devices, shorter coverage range due to higher frequency) 802.11ah Wi-Fi HaLowTM will be an ideal solution to keep large amounts of devices out of the 2.4G/5GHz network. As the demand for IoMT (Internet of Medical Things) increases in WSN (Wireless Sensor Network), it is essential to build a wireless network infrastructure to accommodate the number of connected devices' growth. Given 802.11ah features, it is suitable for BANs (Body Area Networks) and applications such as ECG, SpO2, blood pressure, and so forth.
Long Reach Coverage
Sub-GHz radio reaches 10+ times more distance than 2.4GHz radio. Medical mobile workstations are essential equipment connected to a Wi-Fi network in healthcare facilities. Fast-roaming technology is used to minimize the link disconnection time due to the roaming among access points. Now, 802.11ah can even lower the chance of network disconnection by reducing the roaming among the access points.
The 802.11ah enables wireless communication between an access point in a healthcare facility and devices outside the facilities. For example, diagnostics data taken at testing sites outside of a healthcare facility (e.g. parking lot) can be immediately registered to a patient database. It is also possible to monitor live data from security cameras or thermal cameras outside of a facility.
Penetration, Obstacle Diffraction Resulting in Robust Wi-Fi Link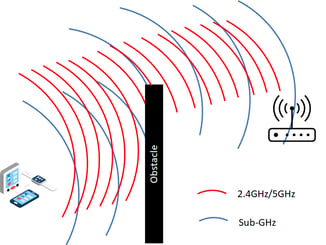 802.11ah Wi-Fi HaLowTM will provide a more robust Wi-Fi link than 2.4G/5GHz Wi-Fi by reducing radio signal attenuation through walls, ceils, or other obstacles.
The healthcare facilities are built with many walls to isolate patient rooms, doctor offices, surgery rooms, and others from each other. Such healthcare facilities will benefit from sub-GHz radio characteristics to better penetrate typical construction materials than 2.4G/5GHz radio. Less attenuation through the walls will result in better Wi-Fi link quality between Wi-Fi stations and a Wi-Fi access point outside of these rooms.
Sub-GHz radio diffraction characteristics is another advantage compared with 2.4G/5GHz radio. An obstacle between a station and an access point can disturb the radio signal and break the Wi-Fi link. The sub-GHz radio diffracts more than 2.4G/5GHz radio so that the signal can reach the object behind the obstacle.
Low Power Operation among Hundreds of Devices
802.11ah Wi-Fi HaLowTM will enable low power medical IoT devices with long battery life. For example, it uses target wake time (TWT) to connect the device only when it needs to connect. TWT is defined to minimize the total system energy consumption by optimizing each station's expected activity duration. 802.11ah technology is ideal for handling short and burst data required to travel long distances from hundreds or even thousands of medical IoT devices and sensors.
Secure network as 2.4G/5GHz Wi-Fi network
When 802.11ah Wi-Fi HaLowTM network is installed into an IP network, security is another essential feature. 802.11ah can use WPA3-SAE as well as WPA3-Enterprise to build a secure Wi-Fi network. 802.11ah WI-Fi network protects patients' privacy, confidential and sensitive information in the healthcare facility as they are protected in other Wi-Fi networks.
Key Takeaways:
802.11ah Characteristics

Benefits

sub-GHz
No interference with existing Wi-Fi radio
Long reach
Less access points, wider coverage
Wi-Fi network expansion outside of a facility
Penetration / Diffraction
Better link quality over walls / around obstacles
Low power operation
Energy saving
Large amounts of devices per access point
More device connections in WSAN / BAN
Wi-Fi network with same security features
Installation to existing secure Wi-Fi network with enterprise security
Industry First 802.11ah HaLowTM

Solutions from Silex Technology
As a leading and trusted Wi-Fi connectivity solution provider in the healthcare industry for over a decade, Silex Technology now offers various solutions with Newracom IC for early 802.11ah deployment in emerging applications.
For Healthcare Facilities/IT integrators
Silex's AP-100AH and BR-100AH allow customers to install the 802.11ah Wi-Fi network right away in the US and Canada. Immediate deployment scenarios can be
Installation of AP-100AH and BR-100AHs to connect Ethernet devices to 802.11ah wireless LAN

Installation of AP-100AH and replacement of existing 2.4G/5GHz Ethernet to Wi-Fi bridges with BR-100AHs
Silex keeps enhancing the product features through a firmware update, and WPA3-Enterprise support is in the list of the enhancement.
Please contact silex's sales or support team if AP-100AH or BR-100AH misses some required features. Silex will address your needs through either firmware update or customization service for you.
For 802.11ah device manufacturers
Silex also offers 802.11ah embedded wireless module for device manufacturers to develop 802.11ah products. Silex's comprehensive product lineup will accelerate the development for:
IoMT device manufacturers: SX-NEWAH EVK + AP-100AH

Access point manufacturers: SX-NEWAH EVK + BR-100AHs
More resources about 802.11ah technology and SX-NEWAH module are available on Silex's website. Please check them out.
Learn more about Silex's expertise in the healthcare industry here.