Posted by Satoru Kumashiro, February 9, 2023
How to 10x the Reach of Wi-Fi Devices with Wi-Fi HaLow 802.11ah
Wi-Fi HaLow, also known as 802.11ah, provides scalable, secure, and high-throughput Sub-GHz wireless connectivity. Its long-range and low-power connectivity makes it ideally suited for a variety of applications across the IoT ecosystem, from consumer to commercial and industrial use.
In this post, we will share a proof of concept for how to 10x the reach of Wi-Fi devices using 802.11ah, which will cover the following:
How HaLow can retrofit the existing Wi-Fi devices to transfer data over farther distances.

The data throughput and the range that HaLow can offer.

How to seamlessly integrate HaLow into an existing IP network system.
Before we get started. Let's cover the main differences between traditional Wi-Fi and Wi-Fi HaLow.
The main difference is HaLow provides longer distances with less signal attenuation over air. The Sub-GHz radio has better diffraction characteristics against obstacles than traditional Wi-Fi 2.4 GHz/5 GHz radio, resulting in better coverage and material penetration, such as walls.
Extending the reach of Wi-Fi devices
Wi-Fi HaLow is recommended for applications that need expanded connectivity with long range, and secure connections. Decent data throughput is required over a 30-meter distance with a few hundred thousand bit-per-second to a few mega bit-per-second. HaLow is the only solution that can offer such a high data throughput over the Sub-GHz license-free frequency band. Below are three common use cases.
Example 1. Construction site, plant
Workers may want to access remote IP cameras from a tablet on a construction site or plant. These applications may be using legacy Wi-Fi where the coverage is limited, preventing workers from accessing their devices. HaLow LAN network can be deployed, so these devices on legacy Wi-Fi, such as the tablet in this example, can access the HaLow network.
Example 2. Wireless network extension outside a hospital
Inpatients at a hospital may want to take a walk outside while wearing monitoring devices or other medical equipment where there is no cable for outdoor infrastructure. To properly monitor patient information during their walk, the hospital wireless network can be extended with a HaLow access point, so the medical Wi-Fi device can stay securely connected to the hospital network.
Example 3. Factory, warehouse, or any place where 2.4 GHz radio is congested
If the 2.4 GHz wireless network gets congested, connectivity quality suffers. The Wi-Fi access point (WAP) to HaLow bridge device can be placed near the 2.4 GHz Wi-Fi devices, connecting them to a Sub-GHz network. This will result in better connectivity quality for legacy 2.4 GHz Wi-Fi devices.
Silex's Wi-Fi HaLow proof of concept setup
Using an omni-directional antenna, you can send Wi-Fi data 10x further than traditional Wi-Fi.
What devices are needed?
Wi-Fi to HaLow bridge device (demo unit)

AP-100AH(US): HaLow AP (Access Point)

The network topology for the demonstration is pictured below.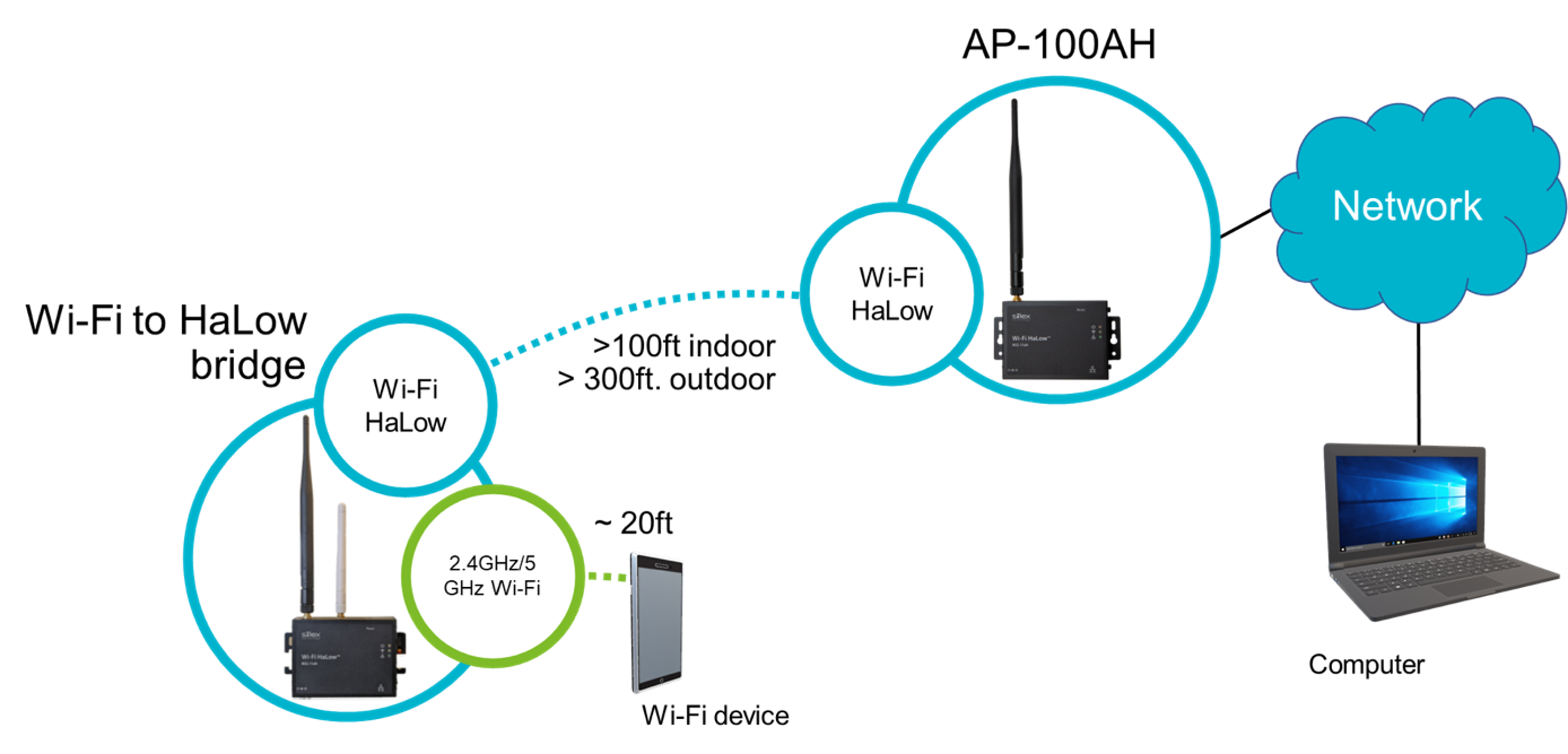 How far can it go?
In an indoor setting, where there are several walls in between the bridge and access point, you can travel a straight distance of about 105 feet. The 2.4 GHz radio is not visible in the same location, and the RSSI (received signal strength indicator) of the HaLow link is still healthy with –74dBm.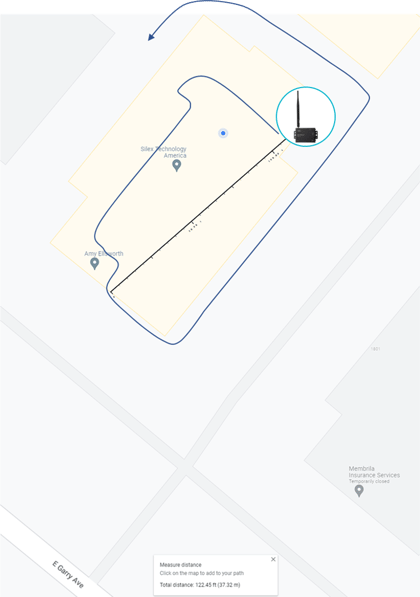 In an outdoor setting, where the AP-100AH is placed on ground level and some office buildings exist as obstacles for the HaLow link, the video streaming is maintained over a straight distance of about 460 feet.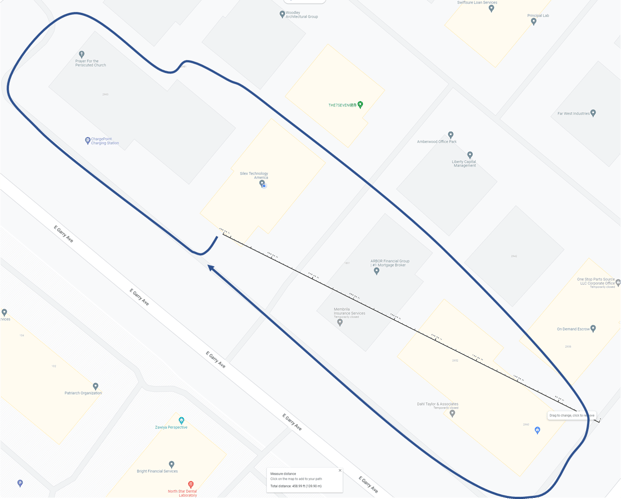 A simple integration of Wi-Fi HaLow system in your network.
Configure the AP-100AH for SSID and PSK

Plug in the AP-100AH into your network through the Ethernet connection.

You can watch this video for step-by-step instructions.
How to extend your Wi-Fi link further?
Configure

the Wi-Fi to HaLow bridge device

Set Wi-Fi SSID and PSK

Set HaLow SSID and PSK

Connect your Wi-Fi device to the bridge
What are some considerations of this setup?
The end-to-end wireless link through the Wi-Fi and HaLow connection is protected by WPA (Wi-Fi Protected Access) technology, which has been proven in the legacy Wi-Fi network. The HaLow connection uses the latest WPA standard, WPA3.
Lowering WAP transmission power is beneficial to reduce radio interference with existing 2.4GHz wireless devices. Silex's HaLow access point automatically selects the channel in which the radio noise is the least.
The HaLow AP integration into your network is seamless. You can connect the AP to either a cellular gateway, a smartphone attaching an Ethernet adapter, or an open port of an existing WAP. It is even possible to connect your computer to access remote 2.4GHz Wi-Fi devices through the HaLow enabled network.
Learn more about 802.11ah Wi-Fi HaLow, here. Or contact us to discuss your design needs.