Posted by Babar Hashim, November 15, 2019
Recommended Wireless Connectivity for Renesas MCU's

As a device manufacturer, you may be using Renesas Micro-controller units (MCU's) in your design. If you are using Renesas and are looking to add wireless connectivity to your device, Renesas now recommends Silex for your connectivity needs. Silex and Renesas are working together to provide our customers a robust partner ecosystem to assist in navigating through the design and integration process, as we understand that selection of an MCU and wireless radio is essential when you are designing your device.
If you are using one of the MCU's illustrated below, we have a perfect solution for you. To learn more on our partnership with Renesas, please visit: https://www.silextechnology.com/renesas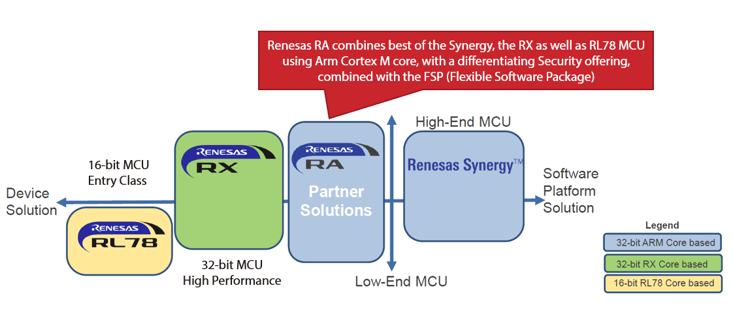 Figure 1: Renesas MCU Lineup
Connectivity Solutions for Renesas RA

SX-ULPGN
Ultra-Low-Power Wi-Fi IoT Module
The SX-ULPGN is an ultra-low-power Wi-Fi IoT module with 802.11 b/g/n support. Based on QCA4010 radio from Qualcomm, this low power Wi-Fi IoT module is an excellent choice for device OEMs looking to design Wi-Fi connected products. This module is ideally suited for embedded wireless IoT products, including medical devices, remote control, appliances, home & factory automation, energy management, residential lighting, security, sensors, wearables, etc.

SX-ULPGN-BTZ
Highly Integrated Multi-Radio Host-less Platform for IoT
SX-ULPGN-BTZ is a dual-band a/b/g/n Wi-Fi, Bluetooth low energy (BLE), 802.15.4 combo module for the Internet-of-Things (IoT). It is a single stream 1x1 WLAN, BLE 5 + 802.15.4 based on Qualcomm's QCA4020 System-on-Chip (SoC). It enables the seamless integration of three popular wireless connectivity technologies (802.11, Bluetooth, and 802.15.4) used in the majority of today's IoT applications.
Connectivity Solutions for Renesas RX65N
Renesas RX65N Cloud Kit
The Renesas RX65N Cloud Kit evaluates cloud communication performance using the RX65N microcontroller and can connect via Wi-Fi to Amazon Web Services (AWS). It provides an ideal evaluation environment for developers and supports the start of IoT device development by users.
Related Press Release: Silex Wifi Module Selected by Renesas to Securely Connect IoT Devices to Amazon Web Services