Posted by Babar Hashim, January 12, 2022
Is Wi-Fi 6E Poised for Global Adoption?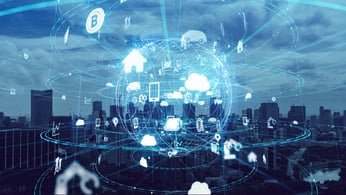 Since the release of Wi-Fi 6E in 2020, the world has slowly recognized its potential. Wi-Fi 6E is a new addition to Wi-Fi 6 giving users the opportunity to use a newly created 6GHz wireless band. The availability of 6GHz frequency space for Wi-Fi will have many implications in the real world. 6 GHz will enable crystal-clear communications in a brand new spectrum made available for Wi-Fi.
According to the Wireless Broadband Alliance (WBA), one of the bodies that advocates for Wi-Fi investment and helps influence standards, 83% of service providers, equipment manufacturers, and enterprises worldwide will have deployed Wi-Fi 6/6E or plan to do so before the end of 2022 (6E is the version that will take advantage of the extra spectrum allocation available in the US and elsewhere). The WBA's Annual Industry Report 2022, ticks off the ways 6GHz spectrum will enable the technology to support more users and use cases. Their findings include:
41 countries, representing 54% of world GDP (strange measurement mode), have now authorized 6GHz for use
More than 338 million Wi-Fi 6E devices will enter the market this year
Nearly 20% of all Wi-Fi 6 device shipments will support 6GHz by 2022
So its seems inevitable that the world will soon adopt Wi-Fi 6E. But how does the adoption look like today?
As shown in the below figure, many regions are making all or portions of the 6 GHz frequency band available for Wi-Fi. More than 50 countries have approved or are considering new regulations for the unlicensed use of 6 GHz. The Wi-Fi Alliance maintains a website with the latest countries that enable Wi-Fi in the 6GHz band.
The worldwide view of 6 GHz Wi-Fi
As seen in the illustration above, the adoption and consideration of WiFi-6E are quite extensive. Places like the United States have already fully adopted 5925-7125 MHz, while others such as Malaysia, Mexico, and Japan are still considering. Canada and the European Union (EU) have already approved the reservation of the spectrum.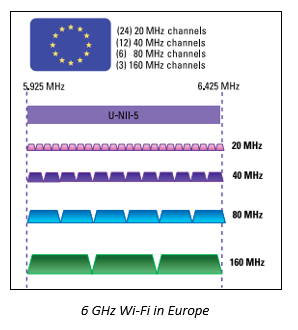 Canada expects to ratify early 2022, and EU ratification of Wi-Fi 6E operation is expected sometime after that.
Some regions will be more restrictive than others. For example, only 500 MHz of 6 GHz frequency space will be available for Wi-Fi 6E in the EU. European regulators are focusing only on the UNII-5 band (5.925-6.425 GHz). It means that 24 new 20 MHz channels, 12 new 40 MHz channels, and six new 80 MHz channels are available for Wi-Fi 6E communications in Europe.
US and EU Wi-Fi 6E regulations
Europe also has its regulations, which differ from those in the United States. The difference is primarily in terms of the amount of spectrum that is assigned. The US has opened up the entire 1200 MHz spectrum (5925-7125 MHz) for unlicensed systems. Europe, however, has only opened up the lower 480 MHz (5945 – 6425). Even though it is not the full 6 GHz band, it still provides plenty of additional spectrum to use. However, to harmonize regulations worldwide, benefit from economies of scale, and meet future capacity requirements, it would be ideal to open the 6425-7125MHz band in Europe. One of the reasons Europe has split the band is to have one half be used for Wi-Fi and the other reserved for 5G technology.
Verdict: t is evident that the push towards this new technology is only growing given the many applications it has. As Wi-Fi 6E continues to evolve, we think it will be adopted globally in the years to come.