Posted by Satoru Kumashiro, September 23, 2022
On-Demand Webinar: Wi-Fi HaLow Evolving the Future of Industrial IoT
802.11ah Wi-Fi HaLow™ solutions are getting matured and expanding now. The Wi-Fi Alliance has launched the Wi-Fi HaLow™ certification program and several solutions have been already certified. While North America has been the center of the Wi-Fi HaLow™ solution enablement, sub-GHz spectrum regulations in other regions have been revised in a favor of 802.11ah requirements or are in a process of regulatory update. In this webinar, 802.11ah ecosystem players, Newracom, Silex, and Nexcomm get together to share their knowledge about the Wi-Fi HaLow™ and experience of the product enablement and outcome.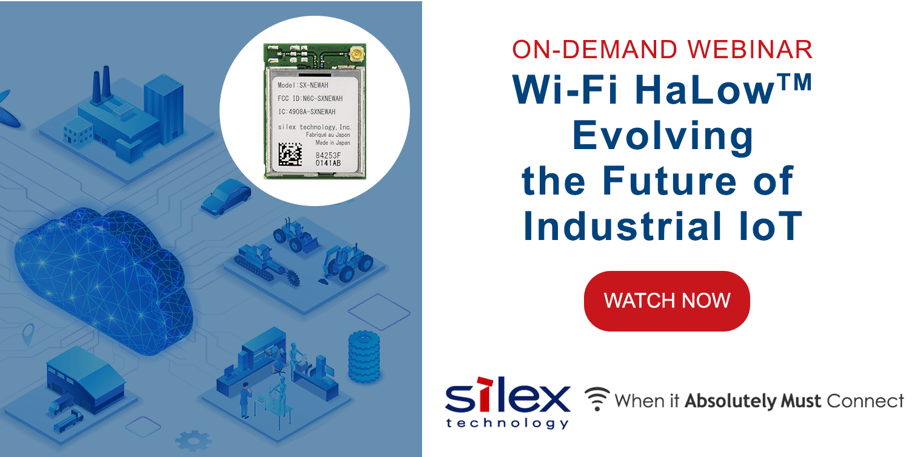 If you are new to 802.11ah Wi-Fi HaLow™, our past webinars will be useful resources for you to learn more about it prior to attending this webinar session.
How 802.11ah (Wi-Fi HaLow) is Revolutionizing IoT Connectivity
Implementing Your First 802.11ah IoT Application with Silex's SX-NEWAH Module
If you want to learn more about this emerging technology, watch this on-demand webinar where we, along with representatives from Newracom, and Nexcomm Systems dive more into the details of Wi-Fi HaLow™ solution available today and how it is resolving the wireless connectivity challenges in the industrial IoT.
In this webinar, we will share:
Knowledge about Wi-Fi Alliance certification program for Wi-Fi HaLow

Global radio spectrum availability for Wi-Fi Halow and its implication

Wi-Fi HaLow SoC capabilities

How to enable your Wi-Fi HaLow devices

How Wi-Fi HaLow addresses the industrial IoT challenges, and

Industrial IoT solutions enabled by Wi-Fi HaLow
If you are still wondering about 802.11ah Wi-Fi HaLow™ maturity, usability, availability, or global adoption, join us to learn more about its progress in the industry.